March 19th, 2008
Q: I just got plaid pants (straight cut), but I don't know what to wear them with! Here's what the fabric looks like. Please give me ideas about what to wear with these pants.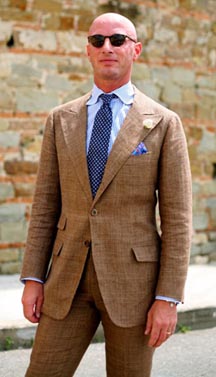 A: We have good news and bad news about your plaid pants. The good news is that you won't really have to spend a lot of time putting an outfit together when you wear these pants. The bad news is that it's because you won't have a lot of options. When pairing shirts with these pants, stick to solid, simple colors. As always, we would suggest a crisp, white shirt (tucked in). Shoes should be casual, but don't wear sneakers with these pants. Try loafers or Tod's drivers instead. Oh, and avoid patterned shirts or jackets, or else you'll end up looking like an optical illusion.
Plaid like yours is bold, especially on a dressier piece of clothing. Last season, Tom Ford had a three-piece plaid suit that was particularly eye catching (shown bottom right). Then again, is there anything from Tom Ford that isn't? He probably could find some way to make what amounts to a Hanes white undershirt fashionable, price it at $400, and it would sell out.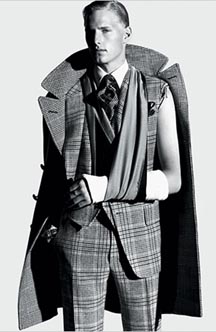 Wearing plaid pants with patterns can be done, as the gentleman in brown (pictured top left) proves, but it's difficult to do, especially without a matching jacket.
Our advice for next time is to buy the entire suit, not just the pants. If you want one piece of the suit, buy the jacket, as it's more versatile (you can wear it over jeans, chinos or wool trousers, if you'd like). When you have the whole suit, it can become a very chic piece; however, separating the jacket from the pants is much trickier.

Have a great tip about what to wear with plaid pants? Share it with us in the comments!

Pictured: Man in Brown Linen Suit by The Sartorialist and Tom Ford Suit by the New York Times.