May 13th, 2008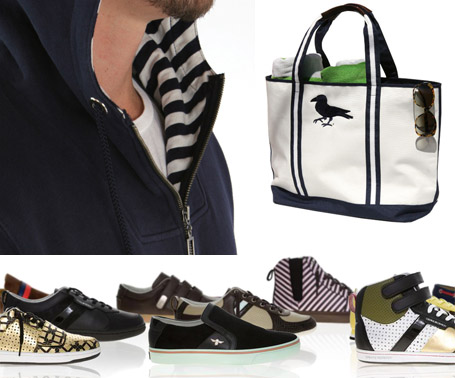 Two of Matt Meyerson's favorite affordable under-the-radar brands: Modern Amusement (hoodie and tote) and Creative Recreation (shoes).
Matt Meyerson, former product placement guru for a top entertainment PR firm, is striking out on his own to create Expose NY, a new kind of brand showcase to connect top-tier designers, stylists, and fashion editors. Read on to hear about Expose NY and the cutting edge of fashion PR, what Matt looks for in an up-and-coming brand, and his top picks for affordably chic under the radar brands.
Omiru: What is Expose NY? And why is it different from events like Fashion Week or tradeshows like MAGIC?

Matt: Expose NY is the first in a series of brand showcases that will geared towards top-tier stylists and fashion editors.
I used to run the product placement division of a very large entertainment PR firm in Los Angeles, where I created a niche in fashion and became known for exposing brands through everything from print to film to TV to music videos to the Web to celebrities to events.
I had a denim client that liked to do periodic "editor days" in NYC since he didn't have an agency on the East Coast and he wanted the face time. We did a handful of successful events that brought in editors from outlets such as Vogue, Elle, Marie Claire, WWD, O, and Self.
About a year ago a light bulb turned on in my head, and I realized there could be a real need for an event like this on a larger scale. I am very protective of my contacts and relationships that I have built over the years, but this is a way for brands to capitalize on my rolodex and forge relationships themselves with the people deciding what goes in the mags, on the TV and on celebrities. It is for brands that don't necessarily show on the runways and may not have a showroom in NY. This will be a way for them to get into the heads of the editors and stylists as they begin to plan for Spring.
Expose is nothing like Fashion Week or MAGIC because this is an event strictly for editors and stylists. As much as we love the retailers, this event is not for them. When editors and stylists go to trade shows like MAGIC, Project or Coterie (if they pay to get in) they have to sift through thousands of brands they may not be interested in to get to the ones they want to see or the ones that might be a hot new discovery for them.
Expose will cut through the clutter and showcase a few handfuls of the hottest brands not showing on the catwalk. There will be quality control on both ends of the process so the brands are meeting with the right people and the guests are seeing lines that they WILL want to use either now or in the future.
We are not like other events that will let in anybody willing to pay. We would rather have a few amazing brands than a bunch of lines nobody cares about. Quality will get the best editors there, not quantity.

O: How do you spot up-and-coming brands? What catches your attention about them? What makes them special?
M: Expose will be a combination of my spotting and inviting brands and them finding us. Brand selection will be very comprehensive and will require an online application, current line sheets, and samples for review. This way we make sure only the highest quality and best in category brands are involved.
What makes a great up-and-coming brand is not price or hype. We look for details and focus on creating garments or accessories that do not necessarily follow the masses. We want brands that are timeless, really focus on good manufacturing, pay attention to detail and offer something that fills a void in the marketplace.
We are in a terribly competitive environment in an economy that is not so high. You could have the hottest line in the world, but if you are sitting with it in the cornfields of Iowa and you don't know how to get it out there, you will not succeed. We help brands get out there. Exposure is EVERYTHING. Thanks to the internet, and sites like Omiru, people are ravenous to find what's hot and what the next best thing is. All that info is a few clicks away.

O: Omiru is all about real style for real people–and fashion that's not only beautiful, but also affordable. What under-the-radar brands should Omiru readers know about?
M: Expose is by no means just about luxury and high price points. If you are the absolute best line in price pointed apparel and are doing some amazing things, we would love to have you join us. Look at what Target is doing with brands like Jovovich Hawk or Kohl's with Vera Wang. Steve and Barry's and H & M are all killing it when it comes to affordable fashion and we can't ignore the power of this space especially when the cost of living keeps going up exponentially.
Some great "under-the-radar" lines (and I say this tongue in cheek since you may know a lot of these lines) include Cheap Monday, anything at Target, Levi's, Creative Recreation, Modern Amusement, and Insight 51. My tastes run a tad more casual, but there is so much great stuff out there for every taste that you can mix and match haute with (price pointed) hot and really pull it off. I can't tell you how many people I know that rock Gucci coupled with a Target special.
For more information about Expose NY, check out http://www.expose-ny.com.
Entry Filed under: News