Q: I just bought a Valentino linen jacket in bitter chocolate. I intended to wear it with jeans and the perfect brown shoes to a swank party. My wife says no jeans! Now what? What pants and what color? Help please.


A: First of all, your wife is right. Even when she is wrong, she is right.
Secondly, in this case, she really is right. Jeans and a well cut jacket looks awkward; it's something about the formality of a well cut blazer and the casualness of jeans that causes this clash. Just because every other guy wears a blazer and jeans doesn't make it right. You can do better.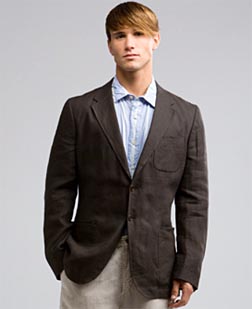 Linen is tricky; I have seen a few great linen suits, but I don't often see a linen blazer without matching pants. I'm assuming you can't go back and buy a pair of pants to make it a suit; if you can, I'd highly suggest wearing that suit without a tie to the party. A word to the wise: most of the price of a suit comes from the jacket. As a result, buying matching pants is often not expensive relative to the price of the jacket. It often makes sense to buy an entire suit, especially in the case of more uncommon pieces in a man's wardrobe, under which that linen blazer certainly falls.
If you can't get the matching linen pants, that doesn't mean you should wear jeans. Instead, try some summer lightweight chinos in an olive or a light khaki color (more slate than beige khaki), as the gentleman shown above does (though don't follow his lead on the sleeve length. And, of course, you could try finding some blue pants. I've said it before, but you will see men in Milan wearing blue pants in lieu of blue jeans. Any of these colors would complement your shoes as well. The trick is to get a pair with the right cut, so as to not make yourself look like you just finished 18 holes of golf. Try looking into Mason's or Save Khaki; they make slim-but-not-too slim trousers in fantastic colors.
Style Tip? People often say that certain colors never go well together. Don't listen to them. Certain colors are hard to pull off together, but just about every color combination can be done. Below, a couple of well-dressed gentlemen show how to do brown/black and brown/gray color combos the right way.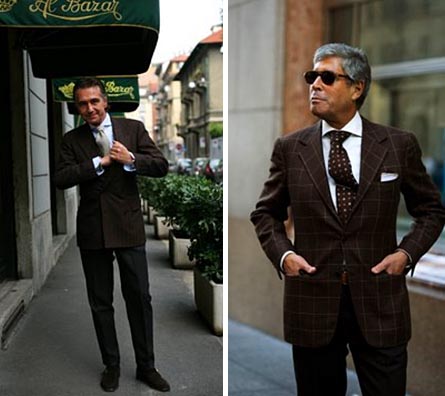 Have a great tip about how to wear a linen jacket? Share it with us in the comments!
2 comments May 21st, 2008