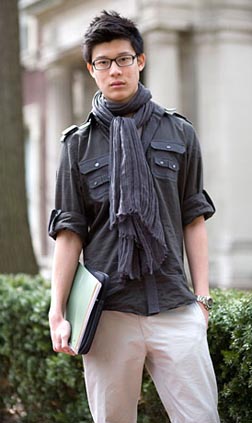 Ever wonder how to wear a scarf (without looking girly)? It's easier than you think. Inspired by The Sartorialist's recent college fashion slideshow, we created a ready made outfit highlighting how to work a scarf into your everyday wardrobe.
Why does this outfit work?

Color Coordination: With the exception of the wood watch, the rest of the outfit elements limit themselves to a small color palette of black, white, and navy.
Visual Texture: The tiny gingham pattern on the scarf provides visual texture without going overboard with pattern.
Standout Accessories: The gingham scarf and the wood watch serve as standout accessories that speak style louder than a flashy top or jacket.
Pictured: Columbia student, courtesy of The Sartorialist and men.style.com.
Guys, how would you wear a scarf? Share your style with us in the comments!
1 comment May 28th, 2008