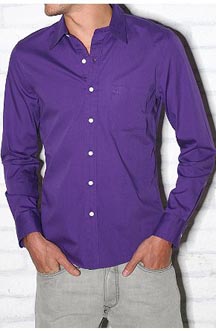 We asked: Would you wear Purple?
You said: Yes! Purple won the hearts of 95% of Omiru readers, while a mere 5% voted against the regal color.

Style tip? Men, we encourage you to give Purple a shot. While purple looks lovely on women's dresses and blouses, it also looks wonderful on men's shirts and sweaters. So go on, give Purple a try. The least you can do is try on a purple shirt the next time you're shopping. We think you'll be pleasantly surprised with the result.
Next question: Remember making tie-dye shirts as a kid? There's something sweetly retro about tie-dye. But would you wear it now? Tell us, would you wear Tie-Dye? Cast your vote on the sidebar!
Pictured: Feathers State Line Shirt | $29.99 (sale) at Urban Outfitters.

3 comments June 9th, 2008