Q: I recently discovered just how difficult it is to buy suits for shorter guys! I am about 5′6" and have a slim physique. I need a dinner suit for weddings/ formal dinners and another suit for work.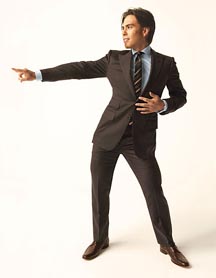 A: GQ hit on the 5 most important things a short man should look for in a suit:
(1) Buy Short Length Suits
(2) Wear your pant legs with very little break.
(3) Visually lengthen your arms by showing a little bit of your shirt cuff.
(4) Peak lapels help to visually elongate your body, making you look taller.
(5) Look for suits with a low stance (the place where the two front pieces of the jacket meet).
Beyond this, be sure to check out the different "How to Buy a Suit" guides by magazines such as GQ and Esquire, and men.style.com. GQ recently had a feature of "best suits under $500." Esquire has an article on the best suits under $500, $1000 and $2000. GQ also has a general how to buy a suit guide that I highly recommend.
Now there are plenty of guys that wear $500 suits that look $2000 and plenty of guys that wear $2000 suits that look $500. The trick to making any suit look good (even one that is $500) is tailoring and fit. As for where to go to find this perfect fit, here's where I would recommend starting your search.
$250 and below: H&M (really)
$250-$500: J. Crew, Banana Republic,
$500 - $1000: Hugo Boss (I personally love the fit, but we have different body types)
$1000 - $3000: Neiman Marcus, Saks, or Bergdorf (if you are in New York). Personally, I have found Paul Smith London to be the best fitting designer time and time again, but again my body type is different than yours (6 feet, 185lbs).
$3000+: Go bespoke…but I don't recommend your first suit being bespoke.
Have a great tip about how to buy a suit for a shorter man? Share it with us in the comments!
Pictured: Suit for a Short Man, courtesy of GQ/men.style.com.
6 comments June 11th, 2008