Here at Omiru, we ask why you would spend $500 when you can spend $50 (or less) on great looking clothes. But how do you build a wardrobe of budget pieces that actually look expensive? Here's what to look for in cheap chic clothes that can (almost) double for designer pieces: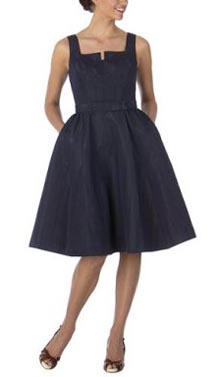 Fit
The most important thing for an item of clothing to appear expensive is correct fit. In fact, without correct fit, even the most expensive item of clothing (even that perfectly made designer shirt) will look cheap. So don't compromise when trying on clothes in the dressing room. If that dress shirt fits just okay–but it doesn't fit perfectly–leave it in the dressing room. Trust us–you'll thank us later when you have a closetful of clothes that fit you to a T. Fit truly makes the difference.
Pictured: Issac Mizrahi Taffeta Couture Dress | $49.99 at Target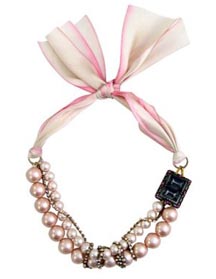 Color
The trick with color is realizing that some colors are available at all price points, and some colors are mainly seen at higher price points. Basic black, white, beige, and even navy can be found at all levels, from budget to couture. But some colors–such as that gorgeous shade between peach and rose pink or that deep jewel toned blue aquamarine–tend to be more common at higher price points. Sure, colors like them are seen at lower price points, but the hue is often a bit off. But occasionally, you'll find these gorgeous colors at budget price points. Snap em up–they're instant chic.
Pictured: Subversive Silk Crystal Beaded Necklace | $59.99 at Target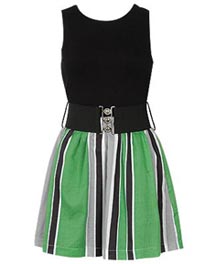 Pattern
Have you ever noticed that some patterns look expensive, while other patterns look cheap? I look for clean shapes, and patterns that are classic-yet-quirky. Stripes, for example, can be a cheap looking, boring, vanilla pattern. But get the right stripes–perhaps in an interesting color palette, or maybe in varying widths–and suddenly they look like they belong on the runway.

Pictured: Jessica Stripe Skirt Dress | $24.80 at Forever 21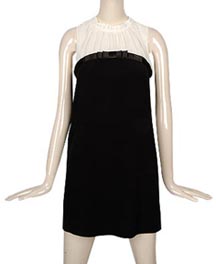 Details
The beauty of clothes is largely in the details, as they give garments that extra special touch. A plain vanilla shirt, for instance, can be taken to a whole new level with special details like tiny pleating, shirring, or even something like topstitching. So when you're shopping budget lines, look for special detailing. You'd be surprised how often you can find designer-type detailing on low priced lines.
Pictured: Boy Meets Girl Dress | $39 at Twelve by Twelve

Have a great tip about how to buy affordable clothes that look expensive? Share it with us in the comments!
13 comments June 20th, 2008