Q: Help! My mom is very uncomfortable with her upper arms and tummy and avoids shopping because of that. She's 5′4, about 135 pounds, has long legs but also has a skin condition that makes it hard for her to expose much of her chest. What kind of outfits would look good on her?

by Colleen Geary, fashion stylist and image consultant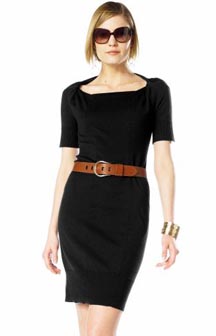 A: Time's winged chariot does catch up with all of us. Our bodies and upper arms droop a little and the tummy may slacken in middle age, but that should never prevent one from making the most of their looks. In fact, now is the time for your mom to invest a little more effort and time in shopping to keep herself updated and fresh–or the fun of dressing will fade too quickly.
As she is 5′4" and not heavy, she would do well in the petites department of a classic store like Ann Taylor. If she has not shopped in some time, she should be sure to buy some fresh basics (such as a dress, casual pants, tops, and some skirts) to keep her look updated and pretty. I realize that she has no patience for shopping–but all she needs to do is set aside one day each season - only 4 times a year–to keep her wardrobe up to date.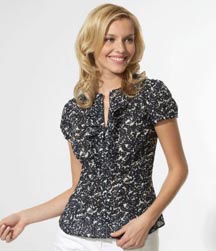 Because she's uncomfortable with her upper arms, she'd be best served looking for sleeved tops and dresses. 3/4 sleeves are especially feminine and flattering. If she has a large chest, however, she may not want to buy any blouses with sleeves that end at her breast line, as this would emphasize the size of her chest.
To minimize her tummy, supportive bras and shapewear (like Spanx) will help her clothes drape more gracefully. Structured tops are going to look better than drapey tops (which can cling to all the wrong places), and details like shirring will help minimize the appearance of her tummy.
So as to not expose too much of her chest, she should look for higher necklines. Boatneck styles are elegant without being revealing–and they look especially fetching with 3/4 sleeves.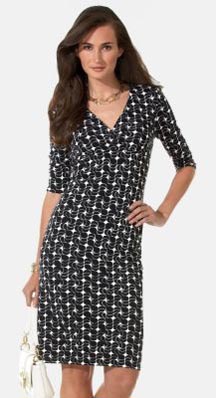 As for bottoms, skirts that hit at or right above the knee are attractive–and make the most of a feature that she is happy with. Long pants are also going to be flattering, though she should steer clear of capri pants. They hit at an awkward length and have a shortening effect, unflattering on all but the very tall.

Pictured: Petite Twist Front Dress | $98 at Banana Republic, Petite Cotton Optic Leaf Shirt | $58 at Ann Taylor, and Petite Abstract Balloons Printed Knit Dress | $138 at Ann Taylor.

Have a great tip about what to wear to flatter heavy upper arms and a tummy? Share it with us in the comments!
2 comments June 24th, 2008