Q: Because of environmental issues, I try to consume less and re-use as much as I can; however, I find that I buy too much clothing, over half of which I barely wear. I know that it's not entirely possible to have a 10-item-only wardrobe, but what 10 items do you think could make a complete wardrobe that would last forever (i.e. wear well and not go out of style)?
Item 1: Navy Suit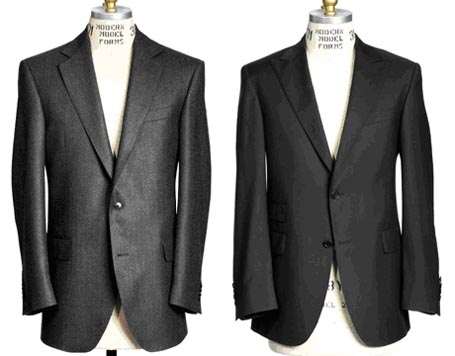 A staple of every gentleman's wardrobe, the navy suit is versatile not only because of its color, but also because you can also wear the jacket as a navy blazer, which is another must-have for men. Get a wool blazer in a dark, inky-blue color and you'll be set for life.
Item 2: Grey Suit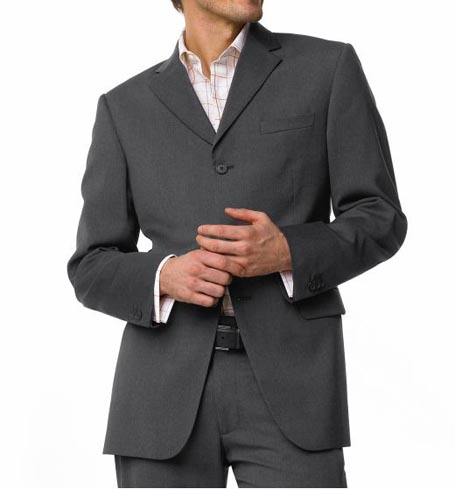 Charcoal Wool Modern Three Button Suit at Banana Republic
A trim gray suit in heather grey or charcoal grey never goes out of style. You could also argue that there is nothing more in style right now, either.

Item 3: Jeans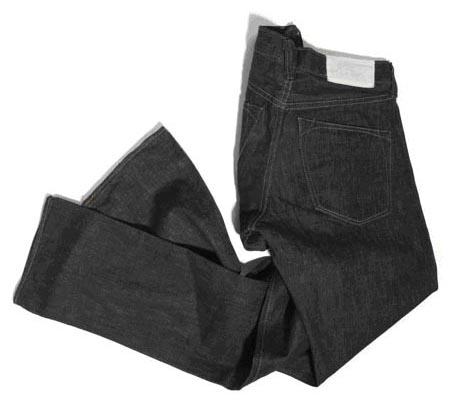 Loomstate Jeans | $96 (sale) at Saks
You can't go wrong with a pair of straight leg denim jeans in dark navy and a simple pocket design. This pair by Loomstate is all these things and more: the company uses certified organic cotton and socially and environmentally responsible methods of production.

Style tip: Keep your denim dark by infrequently washing them inside out with detergent specially formulated for dark items, like this one from The Laundress.
Item 4: T-Shirt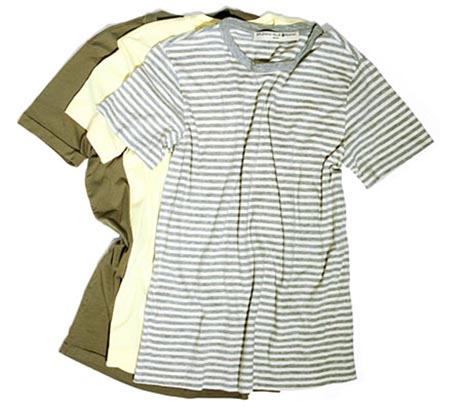 Make sure your shirts are trim and well-fitting, like these from Splendid Always. The pima cotton used in these shirts are pesticide-free, making it as eco-friendly as it was stylish.

Item 5: White Oxford Buttondown Shirt


Solid Vintage Oxford Shirt | $59.50 at J Crew
I can't think of a single thing with which a crisp white buttondown doesn't look good. Enough said.

Item 6: Black or Brown Lace Ups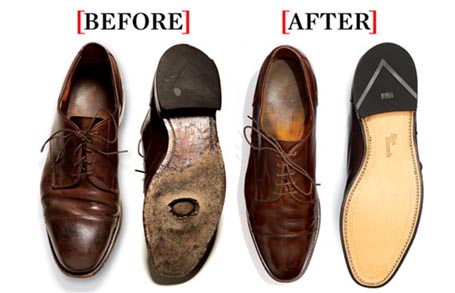 You'll need a good pair of dress shoes, either in brown or black. Brown suggets luxury, black suggests sleekness. Whichever you choose, spend a little more and get a pair in cordovan leather. Also, if you really are practical, go with black; black shoes can go with colors that brown don't (such as black pants).
Style tip? Getting a toe tap for a dress shoe with a leather sole will greatly extend the life of the shoe.
Style tip 2? Even the best dress shoes will get worn down with use, but that doesn't mean you need to throw them away. Instead, get them refurbished. According to Esquire, Allen Edmonds will add new soles, heels, welting, foot beds and laces to the shoe, then condition and polish the leather, all for about $100. Just be warned: if the leather is cracked, you will have to get a new sole.
Item 7: Tie


Ralph Lauren Purple Label Tie | $90 (sale) at Ralph Lauren
Solid or stripes are always a safe bet, but if it's practicality you want, go with a solid tie. Solid ties can go with any kind of shirt (i.e. check, stripes, solid, etc.).
Item 8: Khakis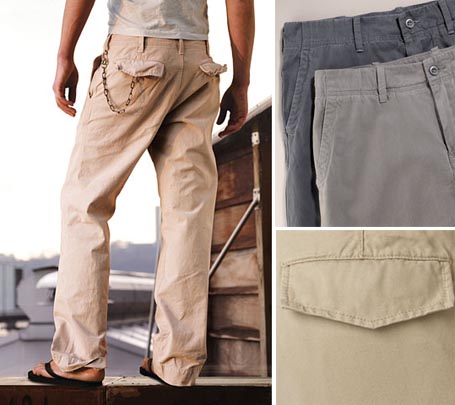 Favorite Khaki Pants | $105 at Neiman Marcus
You want to wear khakis that don't make you look like you just came from a country club. Get a pair that's trim but not too-skinny–a pair of flat front khakis with no cuffs. I love the fit and color of this pair by Save Khaki. This pair isn't meant to be worn with a navy blazer, but you know what? I'm tired of the navy blazer/khaki look, even though it is considered timeless.
Item 9: Wool Overcoat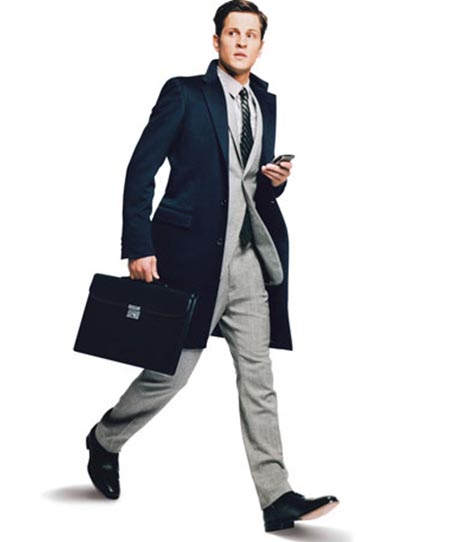 You don't ever ever ever want to skimp on your overcoat (trust me, east coasters). Your overcoat should be as slim and tailored as your suit. My style is a bit more modern, so I prefer overcoats that are bit shorter in length than traditional ones; look for one that falls no longer than the top of your kneecap. Get your overcoat in a dark color like navy or charcoal. Treat it well and you will never have to buy another one again.
Why an overcoat and not a peacoat, you ask? Pure practicality. Most peacoats hit at the waist or just below, and as such, you wouldn't want to wear a suit or blazer underneath because the jacket would peek out from under the peacoat.
Item 10: Sneakers



Common Projects Leather Low Top Shoes | $278 at South Willard
If you have to get only one pair of casual shoes, make them plain white sneakers in leather or canvas. The only color shoes I buy (except for dress shoes and loafers) are white. Look for Jack Purcells or Chuck Taylors–or shoes by Common Projects.
10 comments June 25th, 2008