How do you best dress to flatter your tummy? Direct attention away from your middle, and create the illusion of a long vertical line. To create that long vertical line, look for drapey fabrics, open (especially v-neck) necklines, vertical detailing, and monochromatic and tonal outfits, and stay away from clingy fabrics and fabrics that are excessively stiff. To direct attention away from your middle, avoid highly defined waistlines, cinched waists, and belts. Here's what to look for to flatter your tummy: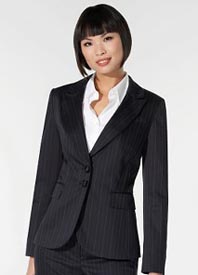 Jackets & Coats
Single breasted styles
Semi-fitted styles
Straight-cut styles
Jackets that reach below the derriere
Deep V-necklines
Tailored styles
Subtle A-line styles
High armholes and natural shoulders for a leaner look
Biker jackets
Look at the tailored shape, the single breasted style with a deep v-neckline, and the the high armholes.
Pictured: Pinstripe Two Button Jacket | $198 at Ann Taylor.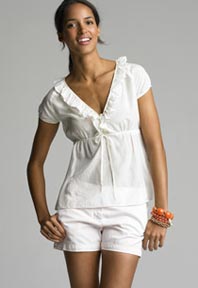 Tops
Long tops
Empire-waist styles
V-necklines
Tunics
Cardigans
Untucked shirts
The empire waist style, the v-neckline, and the flowy nature of this long top are going to flatter your tummy.
Pictured: Solid Jessie Blouse | $78 at J Crew.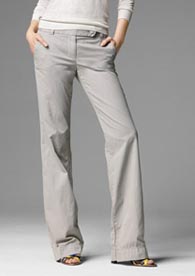 Pants & Jeans
Pants without waistbands are preferable
If you wear a waistband, wear one 1" wide or smaller
Pants that sit slightly lower than your natural waist
Flat-front or side zip bottoms
Pants without pockets
These pants are soft, drapey, and their flat-front silhouette is especially flattering for those of us with a tummy.
Pictured: City Fit Buttery Twill Trouser | $69.50 at J Crew.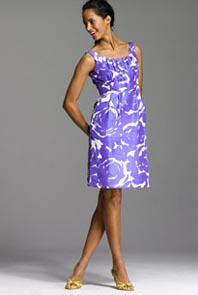 Skirts & Dresses
Styles without waistbands (or narrow waistbands)
Flat front skirts
Dresses that obscure the waistline
Coat dresses
Subtle A-line shapes
Empire-waist styles
Semifitted shift dresses
This patterned dress not only obscures your tummy, but the fitted bodice and the a-line shape is incredibly flattering.
Pictured: Brushstroke Print Sydney Dress | $165 at J Crew.
6 comments June 27th, 2008