July 1st, 2008
Q: I love retro style like Audrey Hepburn, Katharine Hepburn, Grace Kelly. How can I modernize these styles into today's fashion?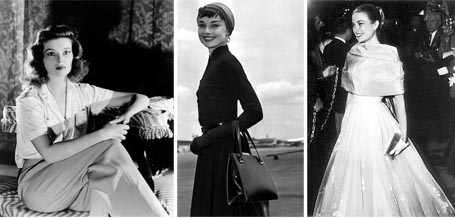 by Colleen Geary, fashion stylist and image consultant
A: Audrey Hepburn, Grace Kelly and Katharine Hepburn all embody timeless American style. Audrey is famous for her elegant black sheath dress, capri pants, ballet flats, and large dark sunglasses. Her style is perfectly suited to her body type and personality - thin, graceful and gamine. (She was also fortunate to have Hubert Givenchy to dress her.) Grace Kelly is famous for her cinched waists, full skirts, fitted tops, pearls, and her classic Kelly bag. And Katharine Hepburn, exuding professional style, made menswear her signature look.
What do Audrey, Grace, and Katharine have in common? Each was an icon of their own personal style. So to modernize this looks, do as these style icons did:
Wear clothing that suits your figure. Not your style icon's figure, not your best friend's figure–your figure. Be honest with yourself about what works and what doesn't–and choose your silhouettes accordingly.
Create, don't Copy. Instead of copying Audrey, Katharine, or Grace's style directly, create your own signature style. Sure, it can be based on that of your style icon, but make it your own. Katharine Hepburn made trousers her signature piece. What will your signature piece be?

Create your signature style around classic, clean lines. Your clothes won't overwhelm you, and maintaining a clean silhouette allows you to play with accessories, hairstyles, and makeup.
Pictured: Katharine Hepburn (courtesy of Fashion Me Fabulous), Audrey Hepburn (courtesy of AudreyHepburn.com), and Grace Kelly (courtesy of GraceKellyOnline).
Have a great tip about how to be a modern day style icon? Share it with us in the comments!