Not all of us have 5% body fat. That's fine. What you want to do is slim your silhouette and draw attention away from your midsection. Here are 15 tips how to slim your silhouette: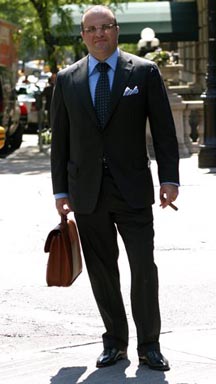 (1) Button your jacket unless you are sitting down. As Tom Ford says, "It takes 20 pounds off your silhouette."
(2) Avoid bold patterns. Simple, solid colors are your friend.
(3) Dark colors make you look slimmer.
(4) Don't buy clothes that are too tight.
(5) You want to draw attention to your chest, not your stomach. Wearing a pocket square and a jacket that does not have sloped shoulder (but slightly squared shoulders instead) can help do this.
(6) Minimize the stuff you put in your pockets. If you have a fat wallet, invest in a cardholder and carry folded cash in your front pockets.
(7) Don't wear cargo pants.
(8) Pleats attract attention to you midsection and they make your thighs look bigger. Wear flat front pants without cuffs.
(9) Wear pants with a longer hem. This creates the illusion of longer, slimmer legs.
(10) Not wearing a belt will help do this too.
(11) Don't wear chunky sweaters or bulky blazers (this one's true no matter your build).
(12) If your wear stripes, they should be subtle and vertical.
(13) Your jacket length is key. If it's too short or too long, it will look awkward.
(14) If you can, wear suspenders with your slacks. This will float your pants and you won't have to choose between buttoning your pants above or below your waist.
(15) Keep clean. Keep your hair (and your beard, if you must have one) short.
Picture courtesy of The Sartorialist.

Have a great tip about how to dress to flatter a heavy build?
Share it with us in the comments!
1 comment July 2nd, 2008