Q: I have to go buy my first maternity clothes this weekend. What advice can you give to keep me looking chic? Styles, colors, fabrics…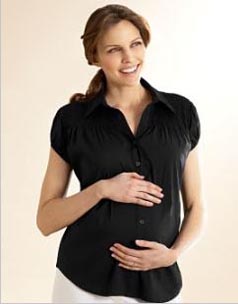 by Colleen Geary, fashion stylist and image consultant
A: Trying to be chic while pregnant can be challenging as your body changes, but the good news is that there are so many choices for chic maternity wear today.
For looks that are fresh and chic , I would choose natural fabrics such as cottons and silks. Simple silhouettes are best–and my favorite looks tend to be in solid colors with few, if any, embellishments.
My philosophy is that when you're pregnant, the simpler your style, the better you look. Figure flattery is still important, but when you're pregnant, you have the opportunity to show off your growing tummy (instead of trying to hide it). So–embrace your body and showcase your belly with chic, simple styles like wrap tops, empire waist dresses, button-down tops, and wide leg pants.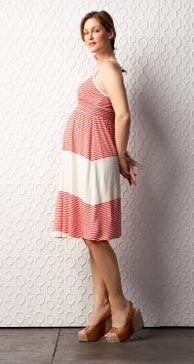 Keep in mind that you will only need maternity clothes for about three to seven months [Updated 7/8/08] –so you don't need to buy nine months worth of maternity wear. Depending on the time of year and the climate in which you live, you may need to base your purchases on seasonality–and note that seasons will change during your pregnancy. Regardless of where you live and time of year, you'll need casual clothes for weekends, a number of work-appropriate separates if you're working, one very good dress (I love Veronique Delachaux), and a comfortable everyday shoe.
As you craft your maternity wardrobe, think also about whether you plan to have another child. If you plan to be pregnant again, you may want to invest in better quality maternity clothes. If, however, you don't plan to have any other children, you don't need to spend as much on maternity fashion.

Here's a few maternity stores to check out:
Old Navy - $20-$40 for dresses
Ann Taylor Loft - $40-$70 for dresses
Gap - $50-$70 for dresses
Japanese Weekend - $70-$120 for dresses
A Pea in the Pod - $150+ for dresses
Good luck with this wonderful, happy time of life and best wishes for your new baby!

Pictured: Maternity Smocked Yoke Button Front Shirt | $44 at Ann Taylor Loft and Maternity Smocked Empire Waist Dress | $24.50 at Old Navy.

Have a great tip about how to be chic while pregnant? Share it with us in the comments!
10 comments July 8th, 2008