July 9th, 2008
Everybody loves sunglasses. Here's a primer on how to find the right pair for you:
To find the right sunglasses for you, start with the shape of your face. Everyone's face is unique, but there are a few general shapes into which faces can be categorized. The basic idea is to get a pair of sunglasses that balances out your face shape; that is, a pair that exemplifies the opposite of your face shape. Moreover, the edges of the glasses should "frame" your face exactly. If the outer edge of the lens' frame is wider or narrower than your face, the glasses don't fit. Oh, and always make sure you try on the pair in person before buying them.
Round Face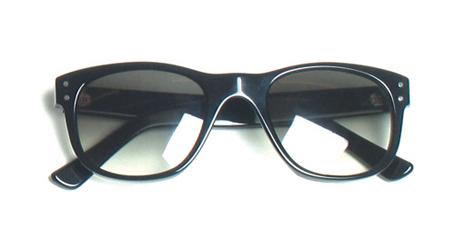 Jack Spade Chad Sunglasses | $275 at Marqsmen
If you have full cheeks and a curved jawline, get a pair that contrasts this roundness. To balance out your face, you'll want a pair of sunglasses in a boxier shape. For best results, make sure the edges of the sunglasses are rounded, not pointy or sharp. I love this pair by Jack Spade.
Oval Face



Oliver Goldsmith Mistinguett Sunglasses | $290 (approx) at Adam Simmonds
If your face is long and lean (think Adrian Brody), you'll want sunglasses that make your face appear wider. A lot of people will say an oval shaped face will look good with any pair of sunglasses, but in my opinion, the ones that widen the face look the very best. Look for lenses that are basically wide rectangles, like this pair by Oliver Goldsmith.
Triangular Face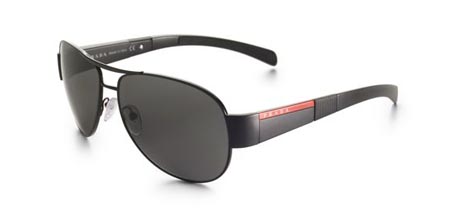 Prada Aviator Sunglasses | $275 at Saks Fifth Avenue
If you have a broad forehead and a narrower chin, you'll want a pair that complements that shape. That means you want a pair that are wider at the top and narrower at the bottom. Aviators are ideal here. I like this sleek pair by Prada.

Bonus Sunglasses Style Tips:
(1) The best sunglasses offer both UVA and UVB protection and are polarized. Polarized sunglasses also distort natural colors the least. If you spend a lot of time on the water, these features are a must; the sunlight reflecting off the water is poison for your eyes.
(2) Often, like with the classic Wayfarer (probably the most timeless pair out there), you can put in regular lenses and wear your sunglasses as a stylish pair of regular glasses. Go to your optometrist for more information.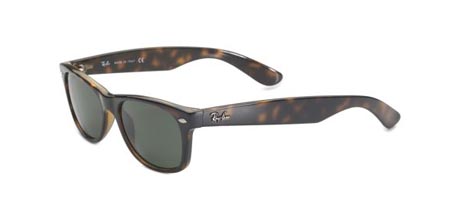 Ray Ban Wayfarer | $110 at Saks Fifth Avenue
Have a great tip about how to choose the right pair of sunglasses? Share it with us in the comments!
Entry Filed under: How To,Men,Men's,Shopping Guide