Who says watches have to be all gold, diamonds, and leather? Chicago-based ToyWatch challenges you to think differently; think nylon instead of calf or alligator skin bands, plastic instead of gold or sterling silver cases, and, as is the case with their newest collection, neon-bright colors instead of more subdued offerings.
These Italian-designed watches from designer Marco Mavilla are crafted after high-end watches, but sell at more affordable prices—most watches are in the $200 to $400 range—exactly the kind of steal we love here at Omiru.
The magic of these watches is that they resemble high-end luxury watches, but you never get the feeling that they are just cheap knock-offs. Jazz is to music as ToyWatch is to watches. Like jazz artists, who take already written pieces and employ tropes to make the music their own, ToyWatch takes classic timepieces and uses new and interesting materials and design elements to make them unique.
Mr. Mavilla designed his first ToyWatch in 2006, and just two years later, they have caught fire, especially among L.A. celebrities. It could very well be that ToyWatch will be the next Swatch.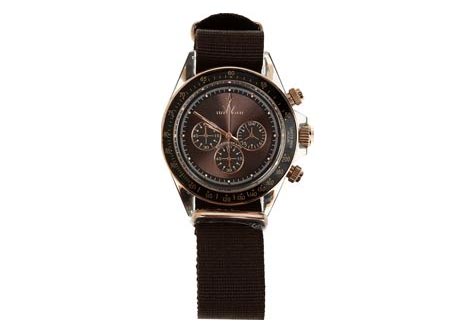 Brown Sports Watch | $255 at Barney's New York
At first glance, this piece, the result of a collaboration between Men's Vogue and ToyWatch, looks like an expensive luxury watch. The band is a grosgrain ribbon, and the subtle rose gold finish on the casing is absolutely perfect. Subtle and refined, you could wear this piece for almost any occasion and it would look great. I love this watch. Limited to 200 units; a steal at $255.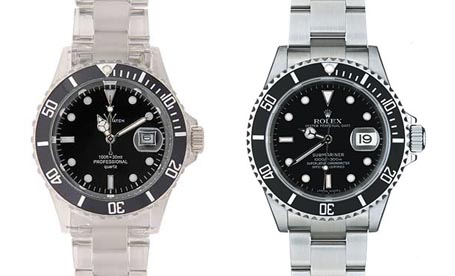 Crystal Watch | $175 at ToyWatch (left) and Rolex Perpetual Submariner from GQ (right).
This is the quintessential ToyWatch. The case and bracelet are both made of a clear acrylic. And at 38mm, the size is just right. And, while it is not explicitly stated anywhere, this piece was modeled after the classic Rolex Oyster Perpetual Submariner; just look at the resemblance!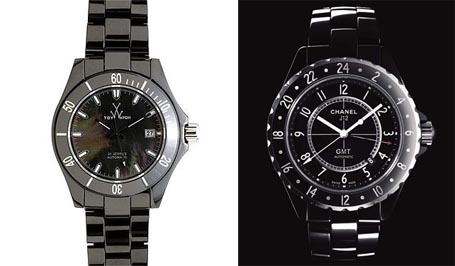 Ceramic Watch | $950 at ToyWatch (left) and Chanel J12 from TimeZone (right).
A piece from ToyWatch's high-end line, this watch is just beautiful. The entire thing is ceramic, which gives it a sleek, modern look. Best of all is its durability: it's virtually scratchproof. It reminds me of the Chanel J12.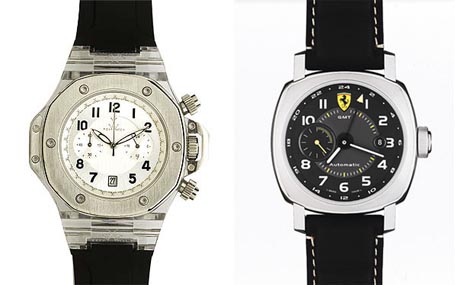 Strong Watch | $385 at ToyWatch (left) and Panerai Watch for Ferrari | $6400 at GQ (right).
Featuring a black rubber band with stainless steel buckle and a silver dial and bezel, this bold piece is another stunner. The shape of the case and face make me think of those beautiful Panerai watches.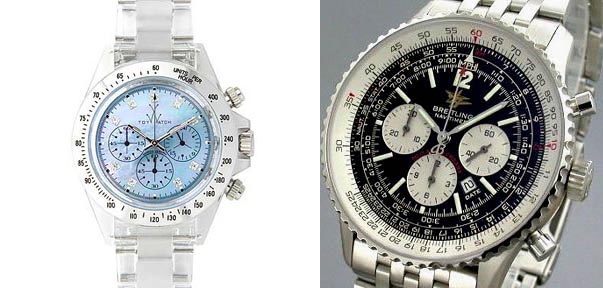 Mother of Pearl Chrono | $275 at ToyWatch (left) and Breitling Navitimer | $6,425 at Mens Watches Guide (right).
Nothing says "man watch" like a chunky chronograph. I like this piece here, with its mother of pearl dial. It looks similar to a Breitling Navitimer, no?

Style Tip: ToyWatch's website has a nice little glossary of watch terms that appear frequently throughout the ToyWatch site. Remember, the informed buyer always makes a better purchase.
1 comment July 16th, 2008