Q: I'm going to Southeast Asia for a month in September, and I know that I have to wear long trousers and if possible long shirts because of mosquitoes and the danger of malaria. I fear that with wearing long linen trousers and blouses I look either old (I'm 21) or like the stereotype tourist. Do you have suggestions for a fun and fashionable travel wardrobe for a Month in Southeast Asia?


Feeling the love for this outfit? Here's
more information about it
.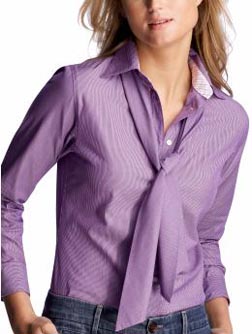 by Colleen Geary, fashion stylist and image consultant
A: I checked with a friend of mine in Hong Kong and she said that the heat and the bugs are horrendous. She tackles this situation by wearing sun dresses and covering herself in deet.
I do think that when you are young, linen can be unflattering, as it loses shape quickly and can make you look baggy. If you don't find linen pieces that you like, I would recommend looking for clothes in cotton modal fabric. Cotton modal is wrinkle resistant and it's also more form fitting. It's a tradeoff of course–in the heat, form fitting clothes may not be as comfortable as looser fitting garments, but they'll also generally be more flattering.
Personally, I think in very high heat nothing will be all that comfortable, so you may as well go for what looks best. But as you pack, make sure you include, at a minimum: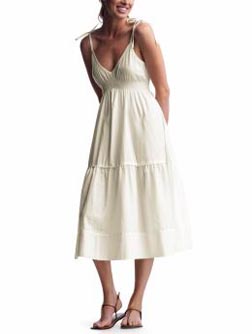 Dresses: Dresses are going to be cooler, and you can stay covered up with longer styles.
Blouses: Look for long sleeved shirts in lightweight fabrics.
Layering Tees: Again, lightweight fabrics are going to be your best bet.
Long Trousers: Natural fabrics like linen or cotton are going to be best.
Lightweight Sweaters: It's going to be hot, but you can stay keep yourself covered up with a light sweater in a loose weave.
How to put your outfits together? You may be inspired by the actress Jane March in the movie The Lover. In this movie, the young woman exudes youth and sex appeal wearing a simple sleeveless black linen dress with a belt, kitten heel pumps and a man's hat.
Final style tips? When you're traveling in Southeast Asia, my number one tip would be to buy super strong bug repellent. Bug repellent will allow you more flexibility in choosing your clothes (so you won't be limited to long sleeved blouses and long linen trousers). My second tip would be to underpack rather than overpack. You're bound to find great (and weather appropriate) clothes while you're traveling through Southeast Asia.

Pictured: Fitted Tie Neck Shirt | $48 at Gap and Tie Shoulder Dress | $54.99 (sale) at Gap.

Have a great tip about what to wear for a trip to Southeast Asia? Share it with us in the comments!
7 comments July 24th, 2008