August 1st, 2008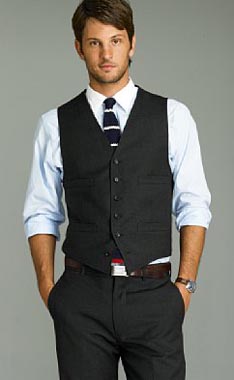 In some cases, the difference between business formal and business casual dress is obvious. A wool suit is more formal than a pair of denim. Enough said. Often times, however, the office dress code won't allow for such extreme contrasts, even if it is casual Friday.
A lot of what makes something casual is nuance and detail. Structure and material, to me, are the deciding factors. A suit can be too casual for the office if the jacket is unstructured. A pair of trousers, even if they are wool, can be casual if they are uncreased and are not hemmed at an appropriate length. A knit or skinnier tie can be casual. Sidebar: Despite what many men think, a skinnier tie is not "old-fashioned" or "from the 50s" – it can be quite modern – it is just more casual.
At the same time, clothing that is too casual for Monday through Thursday can be worn on casual Friday. That unstructured cotton suit from J. Crew? Perfect for casual Friday. Ignore coworkers jabbing you and asking you why you are so dressed up—you know better. That pair of uncreased khakis that hits the top of your shoe? Casual Friday. Knit tie? Casual Friday.
Last tip? Blue and white shirts boring? Balderdash. Don't discount the style factor of a solid blue or white shirt. A plain, well-fitted shirt is modern and sleek; I've personally gotten more compliments when I wear suits with a plain shirt than with stripes or patterns (with the exception of a beautiful Ralph Lauren Black Label micro check I found on sale). A well-cut shirt that fits is never boring.
Pictured: Year Round Suiting Vest | $118 at J Crew.

Entry Filed under: Men