September 17th, 2008
Q: I've seen some tweed sports jackets in fashion magazines for men. Is this something that will be in style for Fall? I've been looking for a tweed jacket and haven't had any luck.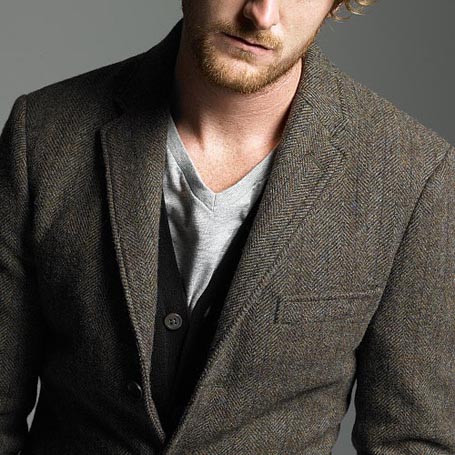 Wool Plaid Tweed Jacket | $328 at J Crew.


A: Yes, tweed does seem to be back, but take care in how you wear it. The tweed jacket can be refreshing and cool, but it needs to be done right.
I think tweed gets a bad rap from old school professors who wear it with patches on the elbows. It can be worn with style, but I'm a bit more classic than the folks at GQ and Esquire, who seem to be pushing tweed as a trend for Fall. I tend to think of tweed as "country" wear, where sophisticates sip on cognac and smoke pipe tobacco while wearing a fine tweed jacket. Maybe that's just me.
If you want to do tweed in the city at night, you may be able to pull it off with the right fit and complementary clothes. If I had to make one outfit with a tweed jacket, I would start with a medium to charcoal gray tweed jacket (with a slim silhouette, lapels and no patches, of course). Under that tweed jacket, wear a sweater or button-down. And finish the outfit off with a pair of dark denim jeans (navy or black, if you like this Fall's black jeans trend) or even pinwale cords.
Whatever you do, keep your outfit simple; you'll already be attracting attention for wearing tweed. Let people admire the cut of your jacket—don't distract them with a complicated pattern. Oh and contrary to the pictured J Crew example, skip the t-shirt under the tweed blazer look. The wool and the rich tweed texture make this jacket more dressy, and the t-shirt tends to make the look immature, not young. The J Crew guys saved the look by layering the cardigan over the t-shirt.
Style Tip? Or perhaps more precisely, "comfort tip" – the heavier material of tweed makes the jacket both warmer and more formal than, say, a canvas blazer. I'd recommend wearing tweed on cool Autumn and Winter evenings. Also, stick to structured blazers, which will complement the formality of the fabric.

Have a great tip about how to wear a tweed jacket? Share it with us in the comments!