Q: I've got a $250 budget to update my work wardrobe for Fall. What are the 2-5 key pieces you'd recommend I spend my money on? I've already got black pants, a gray suit, patent pumps, white shirts, and a decent bag.


by Colleen Geary, fashion stylist and image consultant
A: With a gray suit, white shirts, black trousers, pumps, and a decent bag, you already have the core foundations for your work wardrobe. As you already have these core items, your next step is to expand your wardrobe foundations while adding visual interest to your wardrobe through color, texture, and pattern.
Two other foundation items that are going to be worth the investment are an elegant work dress and a slimming pencil skirt.
The work dress will seamlessly take you from work to an evening out. Plus, a dress is so easy to wear - just slip it on, and you're done!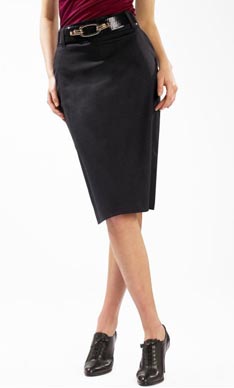 As for the pencil skirt, you can dress it up with a bright blouse or a crisp white shirt. But you can also make it more accessible by wearing a sweater - and in business casual offices, even a nice tee.
For these two basics, try checking out Banana Republic, Ann Taylor, Club Monaco, and J Crew. Try a bunch of pieces on and see what fits you best. Since these are foundation pieces, they're worth the investment.
Pictured: High-waisted Microstripe Skirt | $89 at Banana Republic, and Textured Belted Dress | $150 at Banana Republic.

What have you bought this season to update your work wardrobe? Share your style with us in the comments!
5 comments September 18th, 2008