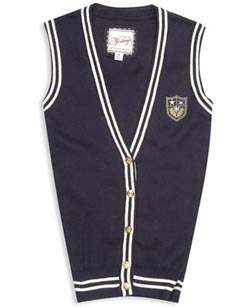 We asked: Would you wear a Sweater Vest?
You said: Yes to Sweater Vests, with a full 68% of the vote.

Style tip? Sweater Vests have come a long way since Mr. Rogers! We love offsetting the masculine nature of the sweater vest with a feminine piece - a sinuous skirt, a flowery brooch, or even a headband in your hair.

Next question: We're shopping for Fall Accessories - and we're on the fence about Elbow Length Gloves. We love the look, but are they really practical? Tell us, would you wear Elbow Length Gloves? Cast your vote on the sidebar!
Pictured: Academy Sweater Vest | $22.90 at Heritage 1981.

4 comments October 13th, 2008