October 29th, 2008
Q: I need help with a non-traditional interview outfit. I'm a designer who moved 2 months ago from San Francisco to New York. I'm looking for something that's edgy enough for the job, yet serious enough for a job interview.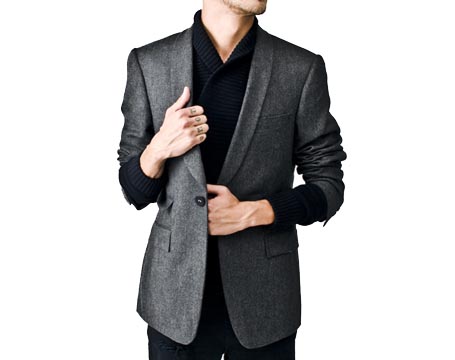 Pictured: Hyden Yoo Harrison Jacket, courtesy of Oak.


A: It's hard to go wrong with a suit for any interview, but of course it may be unnecessary given the industry. Then again, there's that saying that those who overdress may feel like idiots, but those that underdress are idiots. Moral of the story? Wear a (casual) suit.
I really do think that while suits are traditionally a formal look, they can also be made to look very casual. It's the little things that matter. Here's three ways you can make a suit more casual: no belt, a skinnier tie that's loosened just a little bit, and no socks. Oh yeah, cufflinks don't scream "formal," they scream pretentious—especially for a creative job. Leave them at home. Skip the contrast collar too; you can wear it when one day you're on the other side of the interview table.
And suits can still be "edgy" – a suit by Thom Browne takes some real confidence to wear, for example. I'd be safe (and thifty), though, and avoid the Thom Browne suit, unless you're going into a really artsy industry (no negative connotation intended).
Sidebar: If you're trying to get a job on Wall Street, stick to navy or charcoal and a white shirt. You can't go wrong with a solid or striped tie, either. The conservative culture of such firms may cause the interviewer to frown upon anything more. Besides, you should be more worried about trying to answer questions about WACC and Deferred Tax Liabilities than what you're wearing.
The general rule is to consider how your potential bosses dress on an everyday basis and then wear what would be considered dressier. If your boss wears jeans, go with khakis. If your boss wears a blazer, go with a suit, with or without a tie. Get it? It's hard to tell you exactly what to wear to an interview. But whatever you do, be confident, because the last thing you want to be thinking about is how you look.

Have a great tip about what to wear to a creative interview? Share it with us in the comments!