November 13th, 2008
Q: How do you dress up a plain black or white button-down shirt?

Feeling the love for this set? Here's
more information about it
.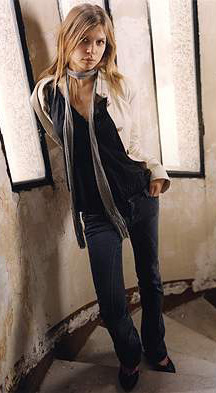 by Colleen Geary, fashion stylist and image consultant
A: While I appreciate the idea of dressing up a plain button-down shirt, the expression "you can't make a silk purse out of a sow's ear" comes to mind. A plain cotton button down shirt is a workhouse garment; it's not really meant for dressing up for going out at night.
For casual wear, however, I recommend emphasizing the sleek simplicity of the shirt by pairing it with a dark rinse jean and a pair of heeled boots. Layer on a great looking jacket to keep the look long, lean, and simple. Bonus points for topping off the outfit with a long scarf, like Clemence Poesy (pictured, left).
To make a plain button down shirt a little more dressed up for daytime, here's a few ideas for standout accessories:
Necklace: Layer on a bold necklace—or two, or three. Don't hold back. The bigger and bolder, the better!
Scarf: It's amazing how a scarf can turn a simple outfit into one that's simply stunning. Give your plain shirt some personality with a patterned scarf.
Belt: To jazz up a plain shirt, take your belt to the extremes. Either wear a belt that's wide or one that's super narrow. If you go for the narrow option, consider wearing a two or three belts for a very downtown cool look.
Necktie: Do as men do and don a necktie. Wear it loosely knotted for a casual menswear-as-womenswear look.
Last words? However you choose to wear your shirt, do as Clemence Poesy does, and let your own individual beauty shine through.

Have a great tip about how to dress up a plain button down shirt? Share it with us in the comments!