December 3rd, 2008
Q: I'm 27 years old, and I'm working for the Dubai government. Would you please give me some tips for how to dress to transition from the office to after-office parties with friends?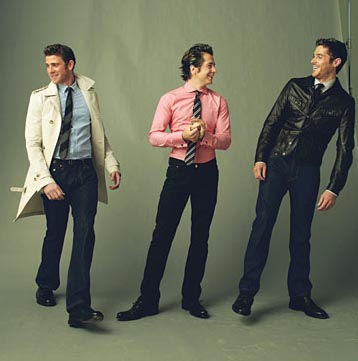 Pictured: Spurr's variations on formal workwear, courtesy of men.style.com.
A: If you're reading blogs like this one, then you must be dressing much better than a typical government man in a sack suit, in which case, you've already won half the from-work-to-a-night-out battle.
First, if you're going to more…intellectual…events such as museum exhibit openings or galas, feel free to keep wearing the suit. Chances are most guys will be wearing one, too (well, at least I would hope they would be).
There are also a few quick things you can do to "casualize" your suit. Go ahead and loosen your tie to add a nice bit of sprezzaturra to your look. You could always just lose the tie (and belt, perhaps) altogether.
If a full suit is too formal for you, you could try the dark denim and suit jacket look, with or without the tie. Make sure you tuck in your shirt though. Warning: this look is rather cliché, but at least you'll fit in, right?
If you wear a three-piece suit to work, you can lose the jacket altogether, so you're just sporting a waistcoat over your shirt and tie. Or, replace the jacket with a sleek, leather bomber jacket, with or without your waistcoat. Black leather jackets make for very sophisticated, urban nightlife wear, and when they're done right, you look great. Switching out your trouser pants for jeans (and keeping the waistcoat) will give you a refreshing take on the dark denim look (and one that I favor at the moment). You may look like you stepped out of a Spurr catalog, but that's really a good thing. Keep the tie in all these outfits.
All these things mentioned are basically variations of a formal suit, but don't be fooled: they will dramatically transform your look. I actually like the idea of going from the office to a night out, because it forces men to keep their look polished.

Have a great tip about how to transition your style from work to a night out? Share it with us in the comments!