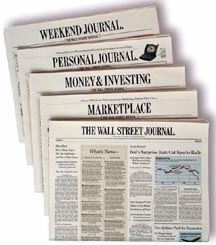 Greetings, Wall Street Journal readers! I'm honored to report that Omiru was featured in the WSJ's Blog Watch. Here's what Nikki Waller, an editor at the Wall Street Journal Online, says about us:
"Fashion-school graduate Trisha Okubo started Omiru in 2005 to deliver what she calls "real style for real people." Omiru's writers answer readers' questions — including one recently on what to wear to a creative-industry job interview — with tips and examples of garments and accessories from major retailers, such as Banana Republic, Gap and Forever 21. Keeping with Ms. Okubo's mission of democratizing style, most pieces spotlighted on the site cost less than $100…Readers weary of unrealistic fashion advice in magazines will welcome tips more focused on their lives — looking work-appropriate is a frequent topic — and budgets."
Welcome to Omiru, where you'll find inspiration and advice that's as stylish as it is practical. Here's a sampling of our favorite posts to get you started:
Womenswear:
Fall/Winter 2008's Best Boots Under $100
Shopping Guide: Six Handbags Under $100
Q&A: How to Transform Your Wardrobe from Formal to Creative
Three Simple Ways to Wear a Scarf
Three Simple Ways to Wear a Little Black Dress
Ready Made Outfit: Modern Katharine Hepburn
Shopping Guide: The Best Plus Size Styles
How to Add Some Spice to a Closet full of Classics
Fashion over Fifty: Five Style Tips
How to Dress up Jeans for Work
Menswear:
Key Menswear Looks for Fall 2008
Men's Q&A: What to Wear to Interview for a Creative Job
Shopping Guide: Four Essential Bags for Men
Men's Trend Alert: The Shawl Collar Sweater
Men's Q&A: How to Transition Your Style from Work to a Night Out
Where to Find Affordable Skinny Suits
What's the Ideal Shirt Length for a Man?
How to Determine the Quality of a Suit
How to Build a Casual Preppy Wardrobe
Want more? See everything we have to offer in our archives.
Cheers,
Trisha and the Omiru Team

10 comments December 8th, 2008