Q: Can Omiru provide some basic guidelines about pairing work shoes and pants/skirts?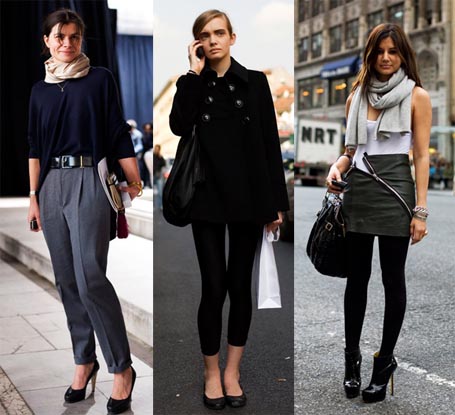 Shoes with Work Clothes, courtesy of The Sartorialist
by Colleen Geary, fashion stylist and image consultant
A: To understand how to pair shoes with clothes, you first have to look at silhouette. Shoes should complement the lines and proportions of an outfit, particularly the bottom that you're wearing. We'll start with the basics—regular trouser pants and a knee length skirt—and then we'll expand out into other options:
Regular Trouser Pants
For regular width trouser pants, the classic choice is a medium height (approximately 2" tall) shoe. You can wear pumps, loafers, two-tone shoes…and you can also experiment with different toebox styles. For a sophisticated look, try pointier toed shoes. But for a more chic, casual look, you can try a round toe. If you're not a fan of heels, you can also try a more subdued kitten heel (usually around 1.5" tall).
Knee Length Skirts
The perfect shoe for a knee-length skirt is a heeled shoe. Most women prefer to wear a medium height heel to visually elongate the leg, but a shorter kitten heel is also a common choice. Women who are blessed with extra long legs can also get away with flats, but the rest of us should steer clear of them.
Wide Trouser Pants
To balance out the width of a wide trouser pant, you'll need to wear a high heel (3" or taller). The high heel visually (and physically) elongates your leg line, and it gives your bottom half balance. If you're blessed with long legs, you can also try a medium height heel. But for optimal figure flattery, no low heels or flats allowed!
Skinny Pants
Channel Audrey Hepburn when pairing shoes with skinny pants. What did Audrey wear? Ballet flats, of course! When you're wearing tight pants, you want a shoe that's not overly sexy. So steer clear of high heels and shoes with "toe cleavage." The ballet flat (or even really short kitten heels) will do the trick.
Short Skirts
Short skirts are best paired with a kitten heel or ballet flat at work. If you're wearing a revealing skirt, you don't want to go overboard with an overly sexy shoe. That said, the woman in the miniskirt pictured above made the sexy shoe and miniskirt look work. How did she do it? She wore tights to cover up her legs (and tone down the miniskirt), and she wore a heeled bootie. Because they provide more coverage, booties are a less risqué shoe option than an equivalently high heel.
Long Skirts
Because long skirts and wide trouser pants share similar characteristics (length and width), long skirts require the same shoe options as do wide trouser pants. So the same rules apply: high heels are best, and no flats are allowed.
I'll leave you with two parting thoughts on shoes:
(1) Shoes can be the sole point of interest in an outfit by providing a point of visual interest with design or color. This is particularly true for work clothes, which are often restrictive style-wise.
(2) Shoes do not need to match the colors of your clothes or your handbag but they should enhance your overall look.

Have a great tip about how to match shoes with work clothes? Share it with us in the comments!
9 comments December 16th, 2008