Q: What are some good winter shoes that are warm, comfortable to walk in, semi-waterproof (unlike canvas converse sneakers that just soak up the snow), affordable, and fashionable - both his and hers.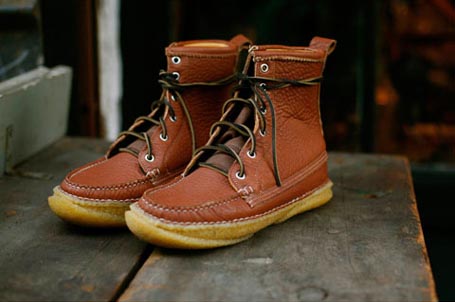 Pictured: Grizzly Boots | $320 at Quoddy Trail. Other more affordable options: Suede MacAlister boots | $135 at J Crew, and Clark's Desert Boots | $89 at Zappos.
A: I'll address the "his" part of this question. The "bad weather shoes" problem is much simpler if you're not a white collar worker. Without a doubt, the first pair of bad weather boots I'd recommend are by Quoddy, makers of high quality bad weather shoes. As you can tell, however, they are for people who experience a few feet of snow in the winter.
Desert boots are another viable option if you live in a place with a less harsh winter. Clark's desert boots have always been around, but nowadays you can find stylish desert boots everywhere from J. Crew and the GAP (via Pierre Hardy) to high end retailers like Tom Ford. The beauty of desert boots is that you can wear them while walking around the city as well; it's a bit harder to "urbanize" those rugged Quoddy boots.
If you're a working man, you have it a bit harder. You have to wear dress shoes to the office, unless you work in a creative industry. Certainly, you can wear galoshes, but that option is more practical than stylish (even though Esquire endorses it). If you live in the city, where the streets are a bit more groomed (e.g. less snow on the sidewalks), you can try wearing dress boots, but again, at a formal, conservative type office, I'm not sure that would fly. If you do decide to wear dress shoes or dress boots, do wear ones with rubber soles. The snow and slush will wreck havoc on your leather soles. If you absolutely must wear leather soled dress shoes to the office, do not wear them outside; instead, change into them at the office.
Last words? Please feel free to beat up your shoes; in fact, I encourage you to wear them in. A lot. Tom Ford ran a series of ads a year or so ago in which a man in alligator shoes was walking through the mud. I love this; "beat up the pretty things," as they say. Buy high quality things and wear them out. This kind of nonchalance is the essence of American style, so embrace it.
UPDATE from Colleen Geary for women's shoes: The tricky thing about winter shoes is that they're often ruined by winter conditions - water, salt, ice and mud. I'd recommend purchasing a very inexpensive but good looking fake leather boot from Target or Walmart that can be worn with pants or skirts. Choose a pair with clean lines so that it's inexpensiveness is not readily apparent. "Indulge" in a pair of black or brown leather boots that you love and can be worn for occasions or when the weather is not inclement. In Utah, you should have enough occasions to warrant two pairs of boots.

Have a great tip about great bad weather shoes–both his and hers? Share it with us in the comments!
7 comments December 17th, 2008