Q: What color dress pants go well with light brown shoes? Usually, I see men wearing light brown shoes with navy or beige dress pants. What else may work?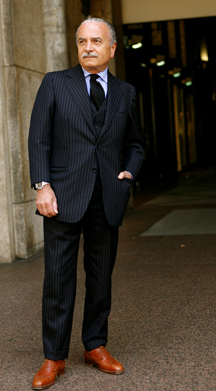 A: Just as dark colored clothes are more versatile than their light colored counterparts, shoes are also more versatile when they are dark. Darker shades of brown, for example, work with many more colors than do lighter shades of brown. Because of this versatility factor, I'd recommend that your shoe wardrobe include a few good pairs of black and darker brown dress shoes in a variety of styles (captoe, bucks, wingtip, etc.) before expanding to lighter colored shoes.
Even though light brown shoes aren't super versatile, you still have a few good options. As you mentioned, light brown shoes complement navy blue nicely. And they also work with light sandy colored pants. Beyond that, you may also want to try dark olive green dress pants with your light brown shoes. Other than these three options, however, it's going to be tricky. I'm not saying light brown shoes and other colors can't work; I'm just saying I haven't seen it done that well (at least, not yet).
Photo Credit: The Sartorialist.
Have a great tip about what pants to wear with light brown shoes? Share it with us in the comments!
4 comments January 7th, 2009