February 19th, 2009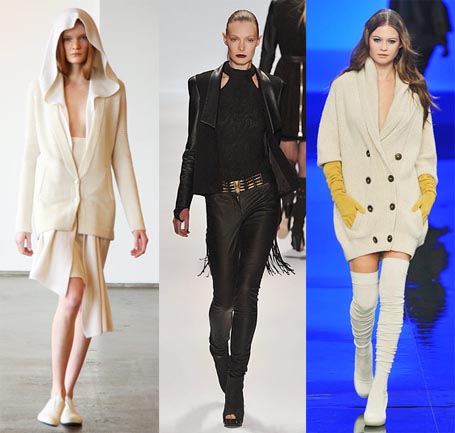 Photo Credit:
NYMag.com
Shawl Collars at Tse, Charlotte Ronson, and Lacoste.

Style tip? Shawl collars have been a fixture on the men's trend circuit for the last couple of seasons. They're still hot for men, and they work just as well on women. What we love about the shawl collar is it's lengthening effect; the vertical line it creates makes you look longer and leaner (especially on sweaters and jackets with a low stance). For the longest leanest look, try shawl collars on a monochromatic outfit. But feel free to add a splash of color through accessories, as at Lacoste.

What do you think? Would you wear shawl collars? Share your thoughts in the comments!
Entry Filed under: Runway Reviews,Trend,Trend Predictives,What's In and What's Out,Women