Q: I'm 23 but look no older than 18, and my wardrobe hasn't been updated since college. I deal with the public a lot, so I'd like to retain a casual air so as to be friendly and welcoming rather than overbearing and stuffy. At the same time, I want to be taken seriously. What are some essentials I should add to my closet that walk the line between professional and casual?

by Traci Tsai
A: High quality fabrics and structured silhouettes are the key to a more professional and mature look, while extra details add a fun and casual element to a work outfit without taking away sophistication.
Do a different take on the suit jacket: the cropped length and flower pin are a little more casual than your normal business attire, but the silhouette is still put-together and business-casual.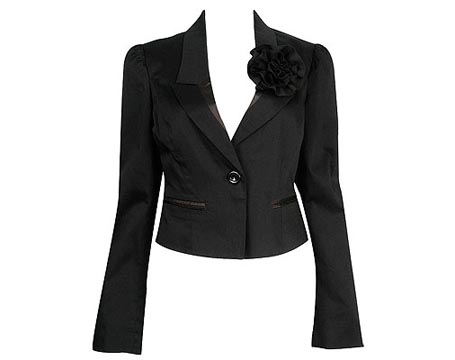 Flower Pin Blazer | $24.80 at Forever 21
Wide Leg pants in basic black, dark grey or a dark pin stripe pattern are a must-have. After all, pants feel more business-like than a skirt. Remember: tight-fitting pants are a dead giveaway to youth, so make sure you choose a cut in a wider leg and a looser fit to keep your attire appropriate for work.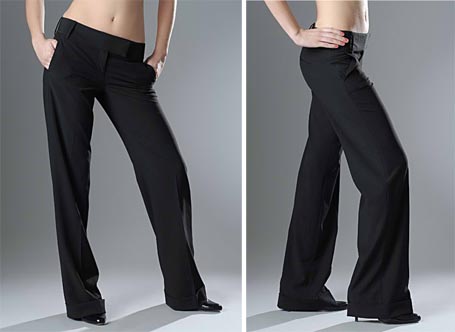 Creme Fraiche Heather Trouser | $98.75 at South Moon Under
A blouse is an essential for a young female professional – it can be paired with skirts, dress pants or trouser jeans depending on the type of workplace, and it fits nicely under a blazer. If you choose a blouse like this one, the bright coral fabric adds a touch of youth, but the elaborate detailing at the neckline adds an air of sophistication.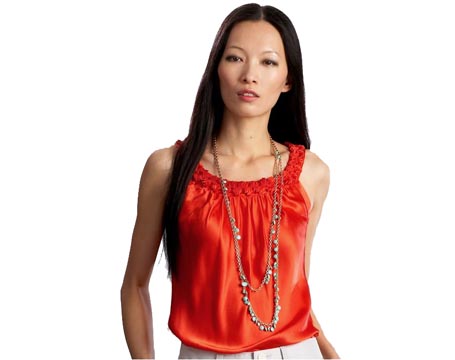 Silk Ruffle Blouse | $69 at Banana Republic
Patterns are a great way to add some flair to a work outfit. The knee -length hem and sleeves are all relatively conservative, but the geometric print adds visual interest, so you get the best of both worlds. To add another element of maturity and structure to the silhouette, you could replace the fabric waist tie with a more substantial wide belt.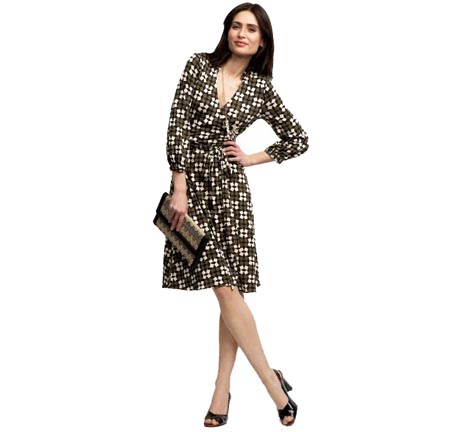 Geo Print Wrap Dress | $130 at Banana Republic
Patent Pumps are an easy, everyday work outfit complement. Pumps are classic and sophisticated, but the patent leather shine makes for a younger look and will stand out more than your typical leather pumps.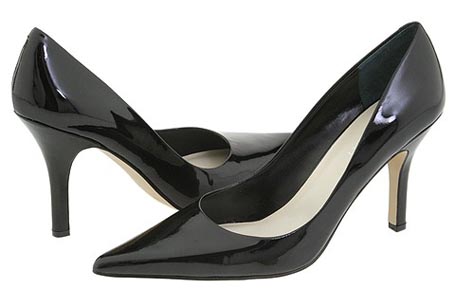 Nine West Barb Patent Pumps | $68.95 at Zappos

Never underestimate the power of a few good pieces of jewelry. The right accessories can instantly add a level of maturity to an outfit. We recommend investing in a few versatile long-strand necklaces and some long earrings. Here youth is an advantage, and you can be more daring with jewelry types and colors without it taking away from your professional look.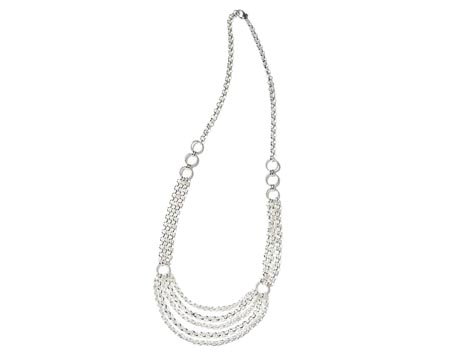 Layered Chain Necklace | $49 at Banana Republic

What would you wear at work to walk the line between casual and formal? Share your style with us in the comments!
10 comments February 24th, 2009