Q: I'm getting a bespoke suit. Looking forward to it. What sorts of interesting details are possible on a men's suit? I've heard about the working button holes and such, but perhaps you have heard of some totally awesome details?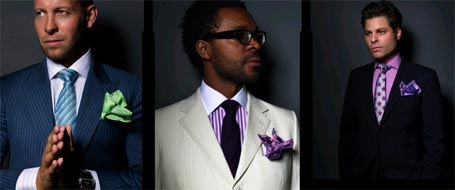 Pictured: Duncan Quinn Bespoke Suits.
A: I'm not entirely sure what you mean by "totally awesome." If you mean "totally awesome fit," then yes, most good bespoke tailors will fit you a suit that wears better than anything else you have (except for another high quality bespoke suit, of course).
Bespoke is more about personal style and quality than fashion. Translation: avoid a loud, statement-making suit that may be in fashion right now but will go out tomorrow. I trust you know how to find a good tailor and how to tell him what you want, so I'll skip right ahead to the details that are available out there.
The bottom line is that bespoke is expensive. And that's kind of the point. It's not for everything, and the exorbitant price is largely why it stays that way. If you're going to go bespoke, you might as well go all out. At least, don't skimp on things to try to save a few dollars here and there.
With bespoke, you can indulge yourself in details ranging from patterned jacket linings to exotic materials. Duncan Quinn, highly regarded in the bespoke world, for example, offers a suit made out of guanaco. If you can pull it off, feel free to go bold with pinstripes or checks in whatever color you'd like. Of course with details like these, you're talking about a suit ranging well into the thousands (Duncan Quinn starts at $4,000 per suit), perhaps even into the tens of thousands.
But given the sinking economy, a bespoke suit feels even more extravagant than it does in normal times. You don't need to go all out with a suit to go bespoke. Try a bespoke shirt (try Charvet, Tom Ford, or Borelli for the best) or shoes (try Barker Black). Ties can be made just for you as well. Just keep in mind that designers may require you to order multiple items at once; especially smaller items like ties and shirts.

Have a great tip about what to look for in a bespoke suit? Share it with us in the comments!
5 comments March 11th, 2009