April 9th, 2009
Q: I'm trying to start dressing more fashionably and put together, but I am still a poor, broke, college student. I'm finishing my teaching degree and I would like to look professional all of the time. In addition to being broke, I am also plus sized.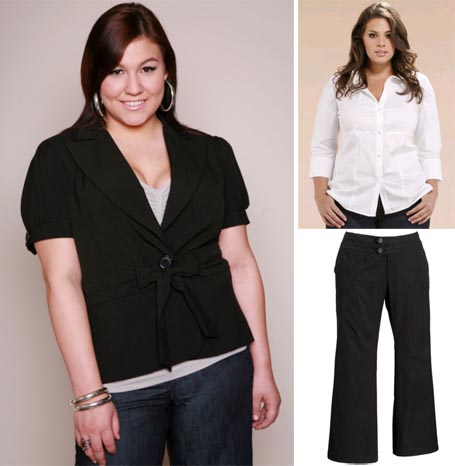 Pictured (clockwise from left): Black Tie-Front Short Sleeved Jacket | $54 at Torrid, Stretch Poplin Button Down Blouse | $68 at Kiyonna, Classic Rise Wide Leg Trousers | $29.50 at Old Navy.
A: In order to build a professional wardrobe on a budget, we recommend investing in versatile, structured pieces that can seamlessly mix and match. Structured pieces will help you look professional, while also flattering your figure. Plus, your existing college-appropriate wardrobe will be instantly elevated when paired with these professional pieces.
Because fit is so key with these pieces - your tailored pants, blazers, and button-down shirts - it's okay to stretch your budget in order to get the Right pieces. After all, you'll get so much wear out of them that the cost per wear will be manageable. With a tight budget, take your time to find and purchase the right pieces. You don't need to buy all of them at once, and being picky will help you understand what brands and styles fit and flatter you best. Plus, waiting to buy also helps you take advantage of sales and coupons that will reduce the price further. Here's three specific pieces to look for:
The Perfect Button Down Shirt in a stretch cotton poplin style. A straight, body skimming cut with vertical seams will flatter your figure best. You'll be able to wear this shirt by itself - or unbutton it to midchest and layer a camisole or tank underneath.
The Classic with a Twist Blazer, which will pair with tailored pants, jeans, and skirts. Pick a youthful take on this classic - try details like half sleeves,

Flat Front Pants with a medium to medium-high waistline. The higher the waistline, the longer your legs will look (and the taller you will appear). Pants with a slight flare at the leg will help visually balance your figure.
Have a great tip about how to build a professional plus-size wardrobe on a budget? Share it with us in the comments!