April 21st, 2009
Q: I am going to Germany at the end of May and would like to know what I should wear. I'm sure I'll do a lot of walking. I want to keep my personal style, but want to be comfortable without looking like a tourist.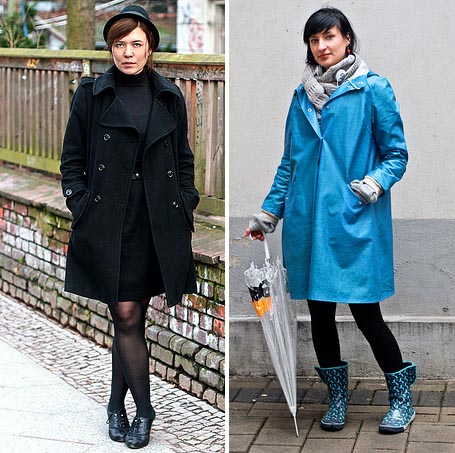 Pictured: Berlin Street Fashion, courtesy of Still in Berlin.
by Colleen Geary, fashion stylist and image consultant
A: The weather may still be cool (and perhaps rainy) in Germany at the end of May, so be prepared for daytime temperatures from the 50s up into the 70s. Layering will be your friend; you'll be able to take off layers as each day warms up to regulate your temperature throughout the day.
Outerwear: Bring a tailored trench and a nice lightweight jacket to keep you warm (and dry).
Tops: An assortment of long and short sleeve knit tops will travel well. Choose styles that have a "twist" to them - German style appreciates the small details that make an outfit special. Also pack a couple of layering sweaters in different styles and weights.
Bottoms: Pack trouser pants, jeans and walking shorts that are at least knee-length. Note that jeans in Germany can be very expensive - I've seen Levi's priced at over $100. To be safe, bring your own from home. You may also want to bring a skirt to round out your bottoms wardrobe.
Dresses: Pack a dress or two; you'll need to dress up for any evenings of fine dining.
Accessories: Since it may rain, don't forget an umbrella or rain slicker - and bring extra pairs of comfy walking shoes (preferably rainproof ones). A pair of sunglasses and a chic scarf will round out your accessories wardrobe.
Last thoughts? So as to fit in, you may want to pack more neutrals. In my experience, German style features more earth tones and black than does American style. But then again, you do see bright colors as well - so it's not a hard and fast rule.

Have a great tip about what to wear in Germany? Share it with us in the comments!