Q: I'm going to Wimbledon at the end of June and was looking for advice on what to wear.

by Colleen Geary, fashion stylist and image consultant
A: London in June is rather cool and somewhat rainy - expect temperatures in the 50s and 60s while you're at Wimbledon. You'll want to be prepared for rain or shine - so plan your wardrobe accordingly. Here's a couple of outfit options that will work with London's finnicky weather:
Lightweight Sweater + Tee + Long Pants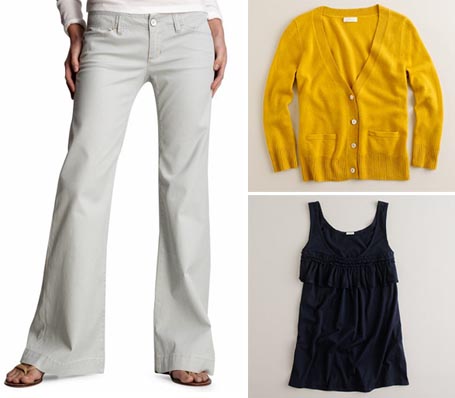 Pictured: Cashmere Three Quarter Sleeve Cardigan | $158 at J Crew, Soft Tee Ruffle Top | $39.50 at J Crew, and Gray Wide Leg Jeans | $49.99 (sale) at Gap.
If the weather is on the cooler side, we'd suggest wearing stylish but comfortable pants with a cute tee. Toss on a lightweight sweater if it gets breezy. Keep a light but waterproof jacket around, in case of rain.
Knee Length Dress + Jacket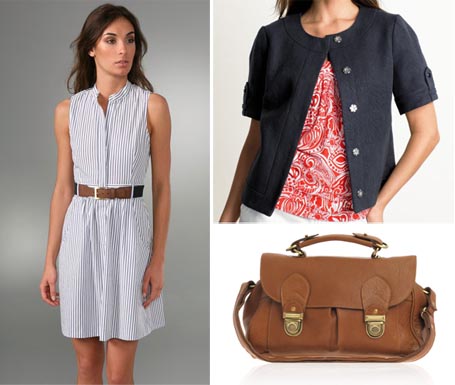 Pictured: Theory Raineria Dress | $285 at Nordstrom, Linen Collarless Jacket | $130 at Banana Republic, Leather Tuck Lock Satchel | $100.03 at ASOS.
You can hope to wear shorts or skirts on warmer days, so keep a dress and light jacket on hand. For Wimbledon, we're loving the look of a tailored shirtdress with a cropped jacket. Try this Theory shirtdress paired with a short navy jacket for a clean, classic look.
As for footwear, make sure to wear comfortable shoes since you may have some walking to do to view all of the matches. Flats or low heels will serve you well.
Last thoughts? Apply sunscreen (rain or shine), and if you're sensitive to sun, bring a hat for sunny days. We'd also suggest bringing an umbrella in the somewhat likely case of rain.
What would you wear to London in June? Share your style tips with us in the comments!

10 comments May 29th, 2009