Q: Could you suggest some summer casual weekend options for [women over 40]? Things that could be worn as part of a graduation weekend–out to a casual dinner, to a barbecue, out and about.

A: It's possible to embody an air of sophistication, even in casual clothing. You can do weekend wear in style with bright colors, tailored silhouettes, and bold prints. How do you put them together? Try these three classic weekend wear outfit combinations:
Chambray Button Down Shirt + White Boot Cut Jeans


Selvedge Chambray Shirt | $88 at J Crew
New Low-Rise Boot Cut White Jeans | $59.50 at Gap
Try a twist on the classic button-down and jeans combo. Look for a shirt in a tailored cut and textured fabric. As for the jeans, instead of a traditional blue, try them in white. Or if you're prone to stains, a nice light grey.
Silk Blouse + Printed Skirt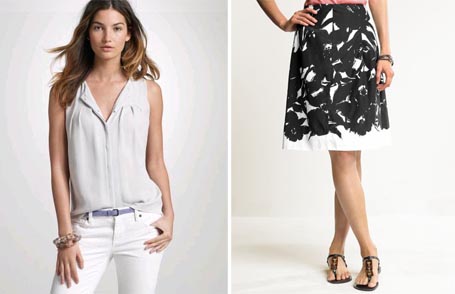 Silk Georgette Pleated Top | $88 at J Crew
Pleated Floral Skirt | $68 at Banana Republic
For a slightly dressier option, try a sleeveless blouse in a luxurious fabric and pair it with a skirt in a sophisticated pattern.

Brightly Colored Blouse + Wide Leg Trouser Pants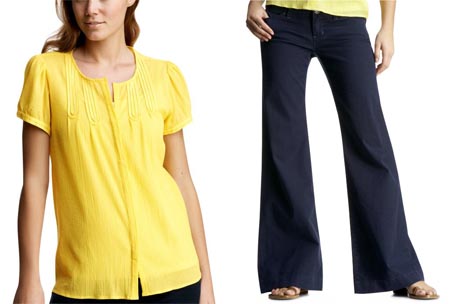 Piped Blouse | $48 at Gap
Navy Wide Leg Jeans | $59.50 at Gap
Balance out a pair of wide leg pants with a short sleeved blouse. You can keep the pairing visually interesting with bright colors and a small-over-big silhouette. If the weather is very warm, feel free to switch out the pants with a pair of knee-length shorts or cropped pants.
Have a great tip about weekend wear for those over 40? Share it with us in the comments!

7 comments May 14th, 2009