June 12th, 2009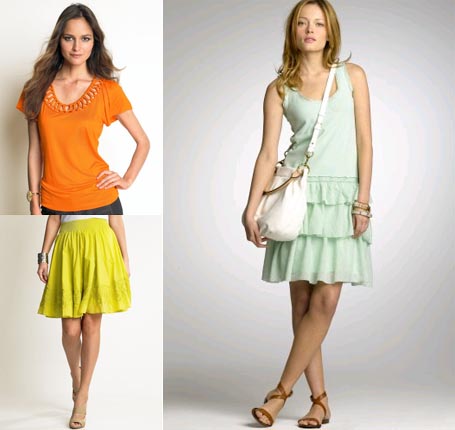 Pictured: Short Sleeve Twist Detail Top | $34.30 (sale, originally $49) at Banana Republic, Cotton Smocked Skirt | $55.20 (sale, originally $69) at Banana Republic, and Cotton Bonbon Dress | $78 at J Crew.
Seems that Spain is a hot summer destination, based on the number of questions we've been getting about what to wear on Spanish summer getaways. For all of you Omiru readers who will be vacationing there this summer, here's our guide for what to wear in Spain this summer:
Our reader questions center on three Spanish destinations: Madrid, Barcelona, and Costa Brava. Madrid is going to be the hottest of the three, with temperatures in the 90s during the day, and 60s at night. June is slightly more mild, but July and August are stiflingly hot - so make sure to get a hotel with good air conditioning.
Barcelona and Costa Brava are going to be more comfortable than Madrid. Barcelona in June is going to be in the mid 70s, dipping into the low 60s at night. In July, the weather heats up to the high 70s or 80s during the day. As for Costa Brava, look for temperatures in the high 70s during the day and mid 60s at night.
To stay comfortable in this toasty weather, here's what you need to pack for your trip to Spain:
Tops: Breathable knits and woven shirts are going to be your best bet. Pack an assortment of layering tees (roll them up to be most space-efficient when packing), plus a few short sleeved cotton or linen shirts. Extra style points for bright colors–perfect for such a festive vacation spot.
Sweaters: A lightweight sweater (or two, max) will do the trick.

Dresses: Pack a nice bright dress for evenings out on the town. Extra style points for trying out exotic prints.
Outerwear: Pack a single lightweight jacket for nighttime.
Bottoms: Shorts and cropped pants are going to be the most weather-appropriate. If you're a skirt kind of gal, feel free to pack a skirt or two as well. We're loving the breezy chic look of a layered cotton smocked skirt–very flirty and extremely versatile.
Accessories: Sunglasses (oversized for drama), a hat to protect your face from the sun, and a scarf (optional) for layering. Check the weather forecast before you leave to see if you need a travel umbrella; rain is rare but not unheard of.
Shoes: Sandals are going to be a must–but choose ones that you're comfortable walking in. Also pack a pair of flip flops for the beach.
Have a great tip about what to wear to Spain this summer? Share it with us in the comments!