When you think Fashion Trends for 2009, what do you think? We dug through our Fashion Week archives, and we saw One Shoulder Dresses, Sheer Fabrics, Butterflies, Ripped Jeans, The Color Orange, Ruffles and Bows, Neon Colors, Metallics, Exotic Prints, Asymmetry, Fringe, Statement Accessories…just to name a few. But out of this melting pot of styles, what are the key trends—and what are the trends to pass up? Omiru has answers for you. We sorted through this season's trends to bring you Omiru's Fashion Trend 2009 picks, summer edition:
The Color Gold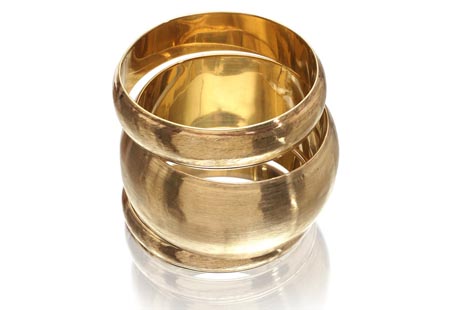 Wide Bangles | $16.85 at ASOS
Sure, diamonds are a girl's best friend, but it's hard to go wrong with Gold. Metallics are back in full force for Summer 2009, and Gold's warmth radiated from the runways. Wear Gold with similarly warm hues—reds, oranges, and yellows work wonders paired with Gold. If you're feeling bold, try a cocktail dress (or a pretty tank, with or without a fitted blazer) in Gold. Or if you're not quite ready for Gold to take the spotlight, dip your toes into the trend (literally) with a pair of Gold colored sandals or espadrilles. Or pile on a set of gold bracelets to dress up a simple cocktail dress.
The Blazer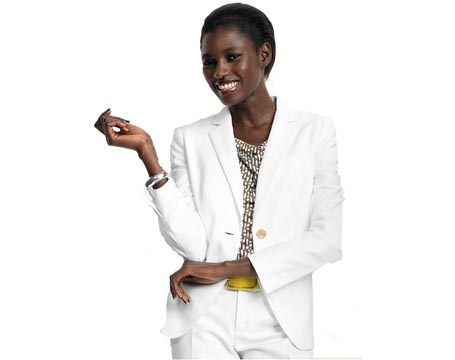 White Blazer | $150 at Banana Republic
Blazers represent the the tailored theme that arose from our fashion trend 2009 picks. Whether you choose a style that's cropped or man-tailored, we encourage you to make blazers a central part of your summer wardrobe. They're great at adding a tailored touch to an otherwise casual outfit. After all, when you slip on a blazer, you feel instantly pulled together. So pluck the blazers from your work wardrobe and wear them on the weekend, just paired with different clothes. Nothing says "simple and sexy" better than a fitted black blazer over a white tee and jeans.
Ruffle Details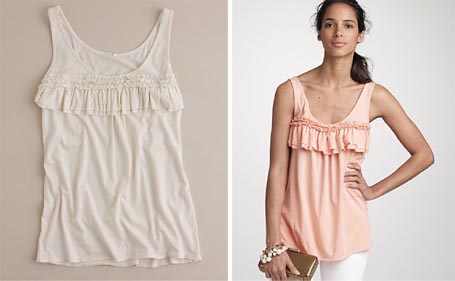 Soft Tee Ruffle Top | $39.50 at J Crew
Ruffles aren't just for girls—real women can wear ruffles too! It's all in how you wear them. While girls can get away with frilly dresses with ruffles all over, grown women would do better with sophisticated, strategically placed ruffles. Style tip? A line of ruffles adds visual volume. Women with a small bust can visually enhance what they have with a line of ruffles at the bustline.

White Jeans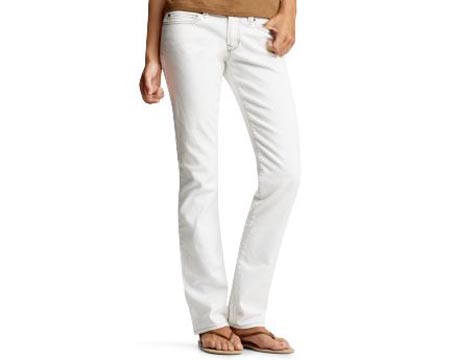 White Straight Leg Jeans | $59.50 at Gap
White Jeans are as summery as a picnic in the park. Though, they probably don't mix—beware of (grass) stains on these sophisticated jeans. White jeans are a welcome contrast to the standard issue dark blue straight leg jean—not to mention that they're a little dressier and a tad more sophisticated. But the beauty is that they pair with just about everything that works with blue jeans. So instead of reaching for your well-worn pair of designer blue jeans, try something a bit different and slip on a pair of white jeans instead.
Exotic Prints


Ikat Halter Dress | $225 at J Crew
From Ikat prints to paisley to Madras plaid, exotic prints are the perfect ingredient to add some spice to your summer wardrobe. Choose warm, bright colors to add to the playfulness of your exotic prints. We love a head-to-toe print, like this Ikat halter dress by J Crew, but if you're just feeling out the exotic print trend, you could try a simple blouse paired with a classic cardigan.
Tell us, what Summer 2009 fashion trends will you be wearing? And which trends will you be steering clear of? Share your style with us in the comments!
12 comments June 9th, 2009