August 13th, 2009
Q: I love the rocker-chic style of Ashlee Simpson and Gossip Girls' Georgina Sparks. But I can't quite seem to perfect that "just-threw-on-whatever" look and still have it look pulled together. What are some affordable staples I should have for this kind of wardrobe? And can you suggest some options for "outfits"?

A: Rock and Roll style is all about drama–but a kind of drama that is, as you noted, looks just thrown together (but still put together). Sounds like a challenge? It really isn't - if you have the right pieces ready to go in your wardrobe. Here's five affordable items every rocker girl should have in her closet:
Skinny Pants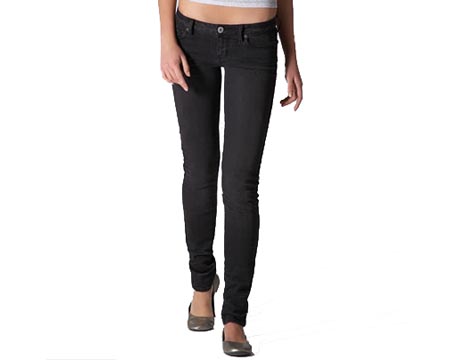 Faded Black Skinny Jean | $44.95 at American Eagle
Tight, skin-hugging pants are the go-to silhouette for the Rock and Roll Girl. They're big on skinny jeans, as well as other sexy-tough pants. Leather pants in a drainpipe or straight leg cut are also a classic choice for the Rocker Girl.
Menswear Vest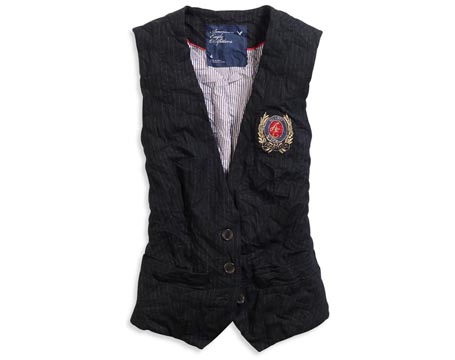 Pinstripe Vest | $39.50 at American Eagle
The Rock and Roll girl mixes menswear with womenswear, and nowhere is that more evident than with the menswear vest. We love the masculine influence on this vest, right down to the pinstripes and the crest detailing.

Motorcycle Jacket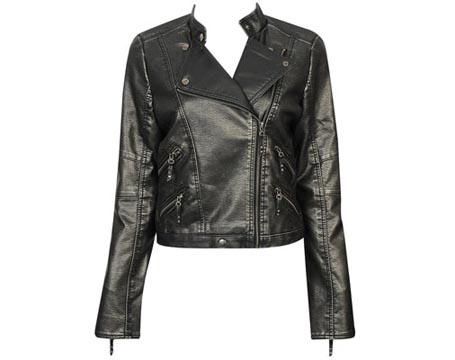 Faux Leather Metallic Jacket | $39.80 at Forever 21
What would a Rock and Roll girl do without the iconic leather jacket? We like the silhouette of this motorcycle jacket, but we also appreciate the faux leather (as it's much more animal friendly). If you're worried about the appearance of inexpensive faux leather, you can distress it yourself (and make it look real) with a little sandpaper.
Zipper Detail Top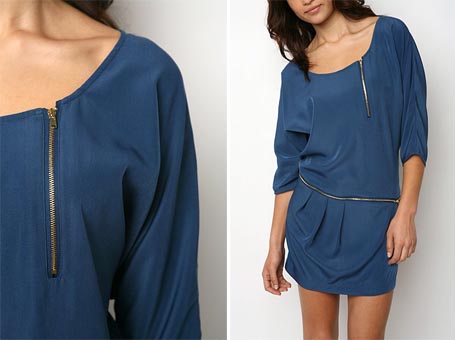 Silence and Noise Silk Zipper Dress/Tunic | $68 at Urban Outfitters
This silk zippered tunic is listed as a dress, but the more modest among us may want to wear it as a top over skinny pants. The deep blue color would pair beautifully with grey jeans, fwiw. The exposed zipper detailing meshes with the edgy Rock and Roll vibe, as does the exaggerated dropwaist silhouette.

Ankle Boots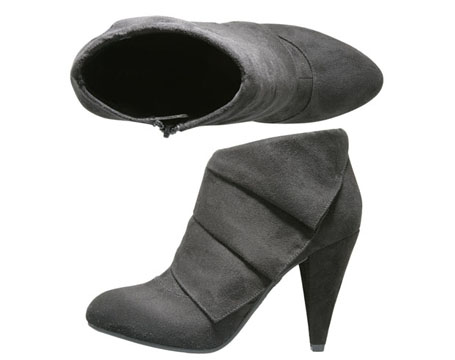 Sasha Ruffle Bootie | $34.99 at Payless
Boots are the go-to shoe for the Rock and Roll girl. She loves the drama of lace up boots, platform heels, and of course, the ankle bootie. The beauty of the ankle bootie is that it works all year round - with skinny jeans in cool months, and with frilly dresses in warmer months.
For Rock and Roll outfits, check back tomorrow - we'll be showing you three Rock and Roll looks for you to recreate.
We've just got the very basics with this 5-item list. There's all kinds of other finds a Rocker Girl should have in her closet, from an authentic concert tee to a zipper detail top. Help us fill out this list - what else should a Rocker Girl have in her closet? Share your style with us in the comments!
Entry Filed under: Shopping Guide,Women