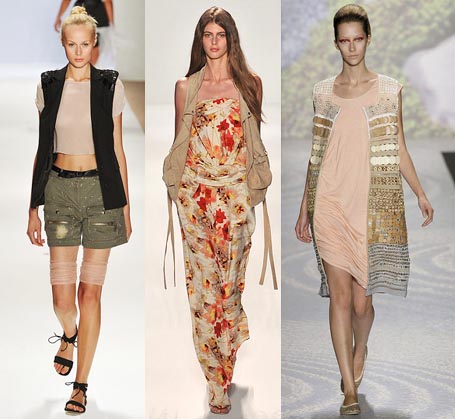 Photo Credit:
NYMag.com
Vests 2.0 at Charlotte Ronson, Cynthia Steffe, and Ports 1961.

Style tip? Vests are a wonderful layering item for Spring (and Fall, for that matter, where they fit neatly under jackets and overcoats). And we're loving the blossoming variety of Vest styles that we're seeing this season. Charlotte Ronson's vest is the closest to the standard tailored variety we've been seeing for the last few seasons - but this one feels more like a sleeveless jacket. Cynthia Steffe's vest feels more utility - like a woman's version of a fisherman's vest, paired with pretty florals instead of trouser pants. And Ports 1961's vest goes bold with metallic embellishments and a full-length silhouette. So go on, have some fun with Vests - and don't be afraid to contrast styles - masculine with feminine, soft with hard, and shine with matte.

What do you think? How would you wear the new Vest? Share your thoughts in the comments!
2 comments September 12th, 2009