September 16th, 2009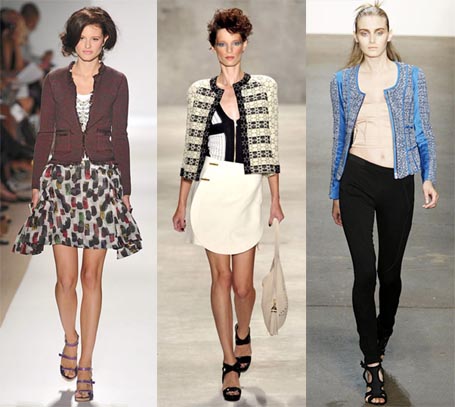 Photo Credit:
NYMag.com
Chanel Jackets at Tuleh, Derek Lam, and Thakoon.

Style tip? Maybe it's the influence of the film Coco Before Chanel, but the runways of Spring 2010 has Coco Chanel on their mind. Chanel's signature boxy textured jackets were suspiciously prevalent this season, reinterpreted by designers from Tuleh to Derek Lam. We love the Chanel Jacket paired with a feminine skirt - whether it's structured (as at Derek Lam) or flowy (as at Tuleh).

What do you think? How would you wear a Chanel Jacket? Share your thoughts in the comments!
Entry Filed under: Runway Reviews,Runway Reviews,Trend,Trend Predictives,Trendscape,Trendscape,What's In and What's Out,Women