September 17th, 2009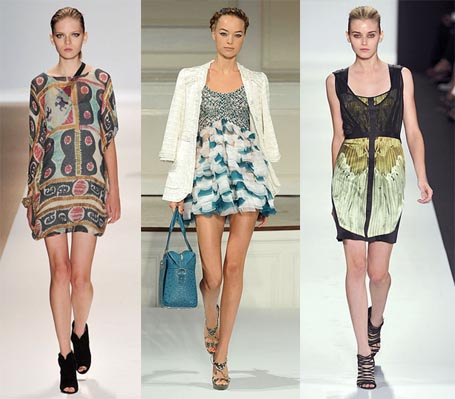 Photo Credit:
NYMag.com
Minidresses at Yigal Azrouel, Oscar de la Renta, and Narciso Rodriguez.

Style tip? Summer 2009 was minidress season - and it looks like Spring/Summer 2010 will be no different. So while you'll want to put your minidresses into storage for Winter, keep them handy for Spring thaw. But even though hemlines are rising to well above knee level on the runway, it doesn't mean that you have to match the short skirt in real life. A hemline falling a few inches above the knee maintains the essence of the mini silhouette without being unwearable.
Two tips for donning a minidress:
(1) If you're baring your legs, keep your upper half covered up - with sleeves, a cardigan, or even a jacket draped over your shoulders.
(2) If you love the mini silhouette but have less than perfect legs, try wearing tights or leggings underneath the dress.

What do you think? How would you wear a minidress? Share your thoughts in the comments!
Entry Filed under: Runway Reviews,Runway Reviews,Trend,Trend Predictives,Trendscape,Trendscape,What's In and What's Out,Women