September 18th, 2009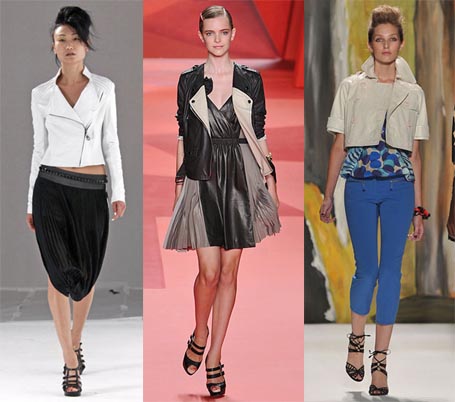 Photo Credit:
NYMag.com
Motorcycle Jackets at LAMB, Philip Lim, and Tracy Reese.

Style tip? Motorcycle jackets are already lending an edgy vibe to Fall fashion, and they'll continue to keep fashion on its toes for Spring. You'll traditionally find motorcycle jackets in black leather (or faux-leather, to be animal-friendly), but for Spring, you'll have a variety of fabrication and color options. We love the squeaky cleanliness of a white motorcycle jacket - and the versatility of a khaki colored jacket. Wear it long (as at Philip Lim) or cropped (as at Tracy Reese) - just add one to your closet.

What do you think? How would you wear a motorcycle jacket? Share your thoughts in the comments!
Entry Filed under: Runway Reviews,Runway Reviews,Trend,Trend Predictives,Trendscape,Trendscape,What's In and What's Out,Women