November 4th, 2009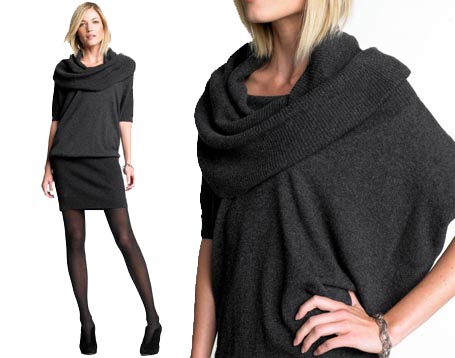 Pictured: Cowlneck Sweater Dress | $98 at Banana Republic.
What's hot in Tokyo? The sweaterdress. Women are wearing sweaterdresses over leggings, over trousers, over tights, and under perfectly tailored overcoats. Wherever you live, this perfectly versatile style is a key one to invest in this winter season.
What to look for in a sweaterdress?
Fit: IMHO, the best sweaterdresses aren't completely form fitting; rather, they drape over your figure.
Weight: Thicker knit sweaterdresses tend to hold their shape better over time. Another added bonus is that they tend to be more forgiving of figure flaws (e.g. a less than flat tummy). However, thinner knit sweaterdresses have the benefit of more elegant draping.
Color: For the most versatile look, grey is a great go-to color. Black and navy are also good options, but don't feel constrained to neutrals. If you dare, try a brighter shade, like red, mustard, or green.
Our fave? This grey cowlneck sweaterdress from Banana Republic. Not only is the drape beautiful, but it also has half-sleeves, which helps to camouflage heavy arms. Pair it with opaque tights, boots, and a structured coat.

Entry Filed under: Trend,Trendscape,Trendscape,Women