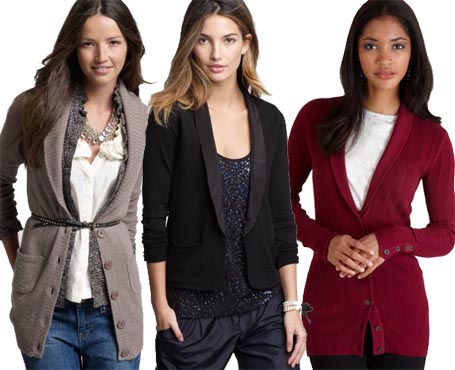 It's sweater weather, and we're digging the shawl collar cardigan. Why do we love it so? Its inherent mix of casual and formal - it's one part sweater and one part blazer. You can wear the shawl collar cardigan with a tee and jeans, with a blouse and pearls, or even with a cocktail dress - and it'll infuse each look a preppily polished feel. Here's three shawl collar cardigans to round out your sweater wardrobe:
Pictured from Left to Right:
Alpaca Long Shawl Cardigan | $98 at J Crew
We love the texture and the go-everywhere color on this nubby alpaca shawl cardigan.
Keaton Tuxedo Cardigan | $118 at J Crew
Ditch your blazer and grab this tuxedo cardigan. It's the perfect day-to-night piece.
Micro Shawl Collar Cardigan | $69.50 at Martin + Osa
The fitted waistband and the micro shawl make this cardigan fully feminine.

2 comments November 17th, 2009