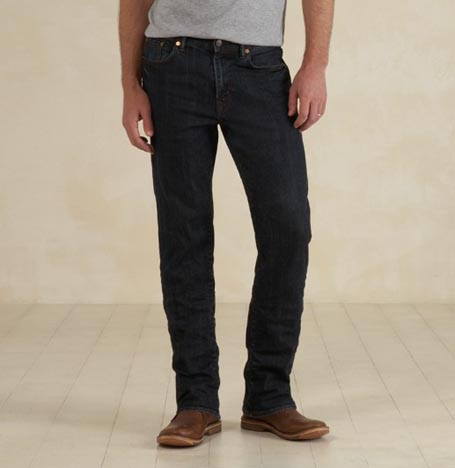 Straight Leg Jean | $79.50 at Martin + Osa
Pair these impeccable dark rinse jeans with the right shoes and top, and you'll be ready for the boardroom.
It's not every day when the tech world starts a fashion trend - but power jeans aren't just for Silicon Valley innovators anymore. Though they're still not accepted in certain industries (bankers remain wholeheartedly woolen), power jeans are becoming increasingly popular among elite business and political circles. Even President Obama is wearing them. But how do you elevate your jeans to business class? We have four simple rules just for you.
Rule 1: Wear Your Jeans Dark
Generally speaking, the darker the color, the more formal the jean. So when you're wearing your weekend denim, only pull out your dark rinse jeans for work. The plainer the jean, the better. Save your acid wash, distressed, and embroidered (eek) jeans for the weekend.
Rule 2: Stick With Straight Leg Jeans
As for fit, you want to strike a balance between too loose and too tight. Just like Goldilocks, you're looking for something that's just right. Too loose, and you can be accused of wearing "dad jeans." Too tight, and you'll be accused of just the opposite. Straight leg jeans work best; leave your skinny jeans and your bootleg jeans for the weekend. On a similar note, look for low-to-medium rise styles - no excessively low rise jeans for work, please.
Rule 3: Top Off Your Jeans With a Pressed Shirt
The idea here is to pair your jeans with an equivalently business-appropriate top. Button-down shirts (or cashmere turtlenecks) are de rigeur, and to ensure that the look is appropriately tailored, make sure that your woven shirts are pressed. (But please don't press your jeans - that's a bit much.) Top off the look with a fitted blazer - or a seasonally appropriate topcoat.
Rule 4: Finish Off Your Look With Good Shoes
To elevate your jeans to the boardroom, pair them with business-appropriate shoes - oxfords or other leather-soled shoes are a must. No athletic shoes, no sandals, no flip flops. And unless you're working in Silicon Valley, or an equally casual culture, no sneakers.

How do you wear your jeans to work? Share your style with us in the comments!
4 comments November 18th, 2009