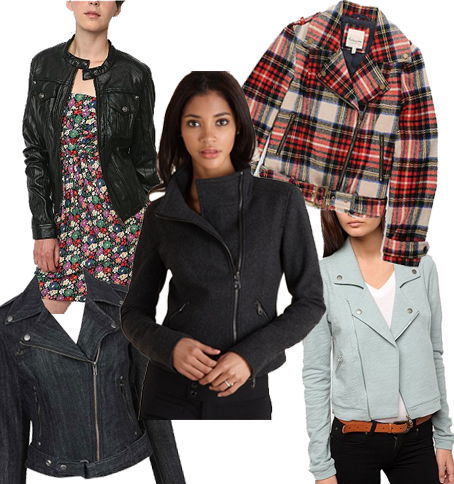 The motorcycle jacket: this masculine favorite has fully made its way into the heart of womens' closets. Why? There's just something about a woman in a motorcycle jacket - the combination of hard and soft, masculine and feminine is just irresistible. We love pairing this versatile jacket with everything from jeans and a tee (a la James Dean) to flowery dresses, for a biker gang meets garden party look. Here's our five favorite motorcycle jackets:
Clockwise, from top left:
Silence & Noise Faux Leather Moto Jacket | $98 at Urban Outfitters
Outfit yourself in a jacket that manages to be edgy and cooly classic, all at once.
Wool Blend Motorcycle Jacket | $42.90 at Heritage 1981
Combine the motorcycle jacket trend with one of the biggest textile trends of the season, plaid, for a statement jacket that you won't want to go without.
Nom De Plume YaYa Moto Jacket | $58 at Urban Outfitters
A pretty pale aqua color adds a feminine touch to a masculine favorite.
Wool Motorcycle Jacket | $150 at Martin + Osa
Motorcycle jackets don't have to be (faux) leather. We love the sleek, clean look of this charcoal wool jacket. Isn't that collar to die for?
Stella Denim Jacket | $24.80 at Forever 21
Not just another jean jacket. This dark denim motorcycle jacket looks lovely with feminine skirts and dresses.
4 comments November 19th, 2009