November 24th, 2009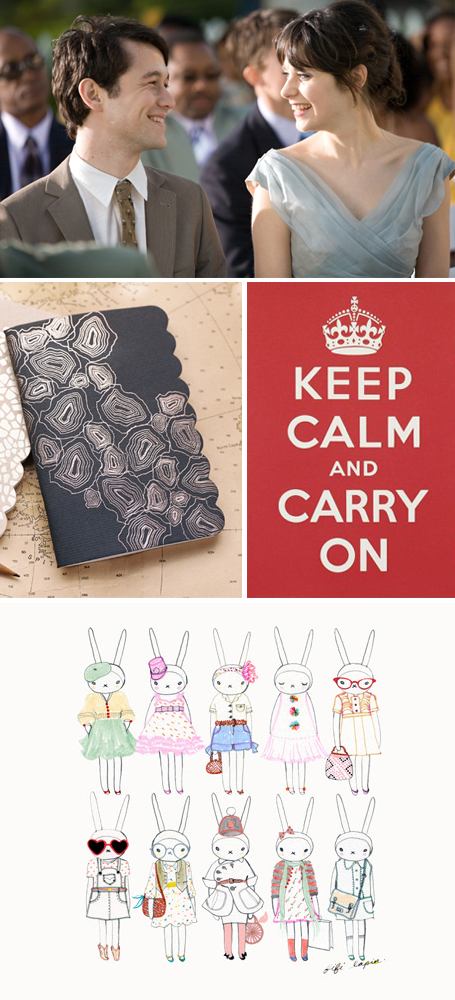 Hi everyone,
Happy Thanksgiving - and the shopping start to the holiday season. We're taking a few days off to relax, eat way too much, spend time with family and friends…and, of course, do some Black Friday shopping.
In the meantime, we wanted to share with you a few things we're thankful for. We don't step out of the fashion world very often on Omiru, but we're venturing off the beaten path to share a few of our favorite things from the worlds of film and design. Hope you get some ideas for your Christmas shopping list.
We'll be back on Monday, November 30. See you then!
Happy Holidays!
Trisha and the Omiru Team
Pictured, from top:
500 Days of Summer | $18.99 (preorder) at Amazon
What can we say about this inventive romcom? We love its completely relatable plotline, but we also adore Zooey Deschanel's wardrobe.
Nature Exploration Agate Notebook | $13.50 at Oh Joy
Collect your thoughts in a notebook beautiful enough to be worthy of them. Isn't this design gorgeous?
Keep Calm and Carry On Poster | $29.51 at Keep Calm Gallery
In times of turmoil (and economic distress), sometimes all we need to do is keep calm and carry on. Keep this on your wall as a reminder.
Fifi Lapin Prints | Price Varies at Fifi Lapin's Shop
Meet Fifi - probably the world's most stylish bunny. We love the prints showing Fifi's everchanging wardrobe.
Entry Filed under: Off Topic