November 24th, 2009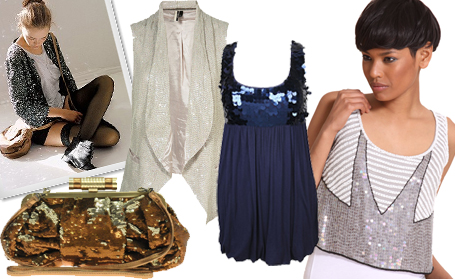 Need a way to add a bit of flash to your look? Look no further than the sequin, which comes in all shapes and sizes. We love the traditionally sized small sequin, but we also appreciate the glamour of the giant sequin. Each of these five versatile pieces can be layered - under cardigans, over leggings, and peeking out from under jackets. Here's our five favorite sequin adorned pieces:
Silence & Noise Sequin Cardigan | $68 at Urban Outfitters
We adore the simple silhouette on this gorgeous sequin cardigan, which allows it to pair with the simplest of tees.
Fiorelli Clutch and Across-Body Sequin Glitzy Clip Bag | $59.49 at ASOS
Just because clutches are small doesn't mean they don't need attitude. Turn on the glam with this sequin encrusted bag.
Sequin Sleeveless Blazer | $135 at Topshop
Now here's for a flashy layering piece. If the sequins are too much shine for you, simply layer this vest under a tailored blazer.
Sequin Bust Knit Dress | $24.80 at Forever 21
Reminds us of a gorgeous paillette Alice + Olivia dress from a few seasons back, but at a mere fraction of the price.
ASOS Black Cropped Sequin & Bead Cami | $84.99 at ASOS
We're digging the contrast yoke on this uber-short beaded cami. Very Art Deco.
Entry Filed under: Trend,Trendscape,Trendscape,What's In and What's Out,Women