December 8th, 2009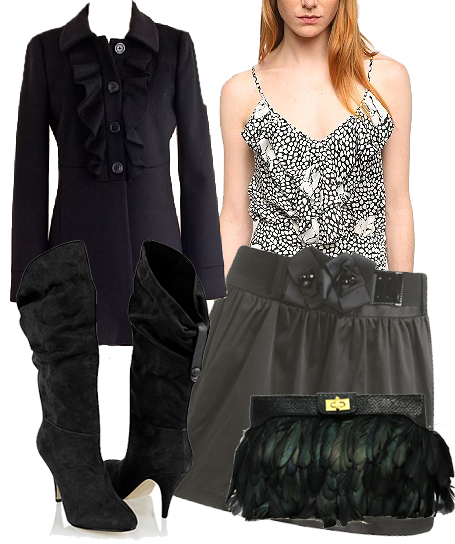 Pictured: Reformed Silk Ruffle Tank | $58 at Urban Outfitters, Elastic Belt Satin Skirt | $21.50 at Wet Seal, Wool Ruffle Duffle Coat | $187.60 at J Crew, Tulip Faux Suede Boots | $22.50 at Forever 21, ASOS Iridescent Feather Clutch | $42.49 at ASOS.
Black and white can be anything but plain. Just keep things interesting with texture, pattern, and embellishments. We've crafted a flirtily feminine look out of black and white pieces, perfect for date night. But take apart the pieces and you can mix and match for work, weekend, and everything in between. Here's how to get the look of black and white:
1. Start with a delicate black and white patterned cami. The silk fabric drapes nicely, while the texture keeps the cami interesting.
2. Slip on a silk satin skirt in a forgiving, slight a-line shape. What makes this skirt particularly fetching is the belt detail - don't you love it?
3. It's cold outside, so grab your coat. We love this coat for its delicate-yet-tailored ruffle detail.
4. Finish off the look with a pair of slouchy suede tall boots - and a statement clutch in iridescent feathers.
How would you wear black and white? Share your style with us in the comments!

Entry Filed under: Ready Made Outfits,Women