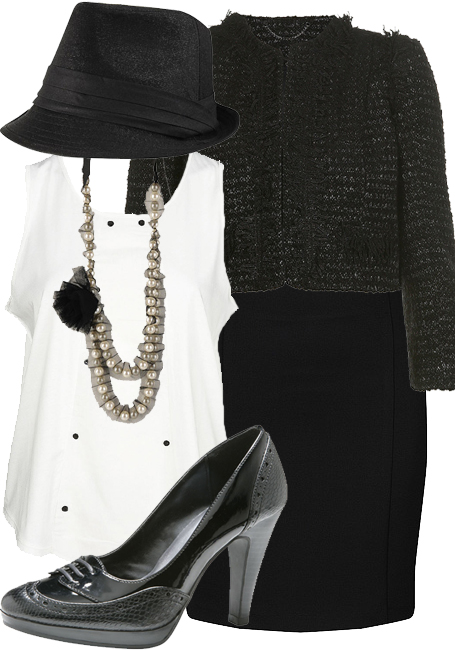 Pictured: Premium Hairy Bolero Jacket | $135 at Topshop, Double Button Placket Top | $32 at Topshop, Double Knit Skirt | $14.80 at Forever 21, Glitter Fedora | $10.80 at Forever 21, Mesh Pearl Strands | $10.80 at Forever 21, Kensington Oxford Pump | $24.99 at Payless.
We've always been enamored of the charmingly confident style of Coco Chanel. And channeling her signature blend of menswear and womenswear is surprisingly easy now that the collarless bolero coat and pearls have planted themselves firmly on the trend radar. (Audrey Tautou's film Coco Before Chanel also didn't hurt to repopularize Chanel's style.) To get a modern version of Coco Chanel's look, mix simple shapes with different textures - and combine feminine silhouettes (e.g. pencil skirt) with masculine details (e.g. fedora hat). Here's how to get the look of Coco Chanel:
1. Start with the simplest of foundations: a white blouse and a black pencil skirt.
2. Layer on Chanel's signature pieces: a pearl necklace (note the modernization of the traditional pearls) and a textured bolero jacket.
3. Finish off the look with menswear inspired pieces with a feminine touch: a ribbon wrapped fedora hat and a pair of oxford pumps.

How would you get the look of Coco Chanel? Share your style with us in the comments!

7 comments December 10th, 2009