December 17th, 2009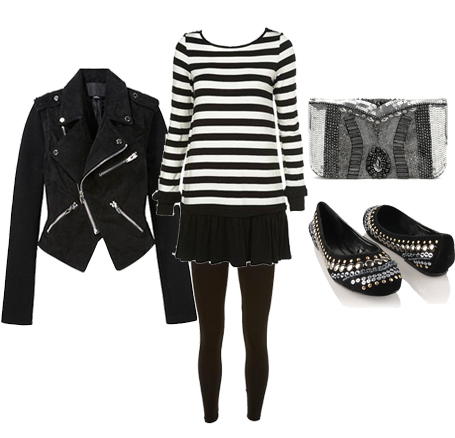 Pictured: Frill Stripe Tunic Dress | $80 at Topshop, Alexander Wang Moto Jacket with Detachable Sleeves | $825 at La Garconne, Ankle Leggings | $24 at Topshop, Black Leather Art Deco Beaded Sequin Clutch | $76.49 at ASOS, Embellished Velvet Flats | $19.80 at Forever 21.
How do you dress up plain black and white? It's simple really - just add embellishment and texture! You'll be amazed at how glamourous basics can look with a little bit of shine. Here's how to get the black and white, yet strikingly embellished look:
1. Start with black and white basics: a body conscious black and white striped sweaterdress and simple black ankle leggings.
2. Add a touch of edge with a well cut motorcycle jacket, also in black.
3. Spice up the look with a pair of embellished velvet flats (for both embellishment AND texture) and a striking silver beaded sequinned clutch. With these statement accessories, you can take a daytime look well into evening.

How would you wear the embellished look? Share your style with us in the comments!
This look is part of Omiru's Winter 2009 Lookbook series, which builds upon our 10-Piece Winter 2009 Wardrobe Expansion Pack.

Entry Filed under: Ready Made Outfits,Women